November is here, and it is officially time for Sad Girl Autumn. With Adele and Taylor Swift simultaneously releasing albums that are peak heartbreak jams, it's only fitting that this season is coined Sad Girl Autumn.
It's not all sad though! With the leaves falling and air getting chillier, SGA (nickname pending) is the best excuse to stock up on new comfy outerwear. To be able to jam out to these albums the way the queens intended, you need to be cozied up by a fire, hot chocolate in hand, and the volume on max.
To help get you in the Fall spirit, we have ranked our top 5 styles that exude the most Sad Girl Autumn energy ... and why they're a must for sorority PR this year. We have also paired each style with a SGA song that best matches its vibe, because how can you be the main character without a corresponding soundtrack for your outfit??
Pass the chocolate and soft blankets - it's time for Sad Girl Autumn.
First off, the basic long sleeve t-shirt. We have to start calm, okay? This style is the perfect base layer - and if we have learned anything from Red (Taylor's Version), it's that the girl loves layers. I mean seriously, how many meanings can one song have? Anyway, back to the long sleeve.
Shown in chambray and ivory, this super soft tee is a great style to tip your toe into Sad Girl Autumn. It's bright and cheery, but still has those soft and warm qualities you want in an autumn style. In album terms, it's like the one or two upbeat songs that break up the power ballads. It's light, fun, and just makes you want to dance!
This is also a great style to add some fun color, bringing some vibrancy into the neutral Fall season. With this tee, you can brighten it up with funky graphics and bold color combos. You can also add a cardigan to amp up the cozy vibes. And as we all know, Taylor loves a good cardigan.
With the long sleeve tee, you're still feeling the #SGAvibes, but it's towards the end of the season when you're getting ready for Christmas cheer. While it's still ~technically~ in Sad Girl Autumn territory, it's just like that one song you scream and dance to with your friends.
BEST SGA SONG TO JAM TO W/ THIS STYLE:"We Are Never Ever Getting Back Together" - Taylor Swift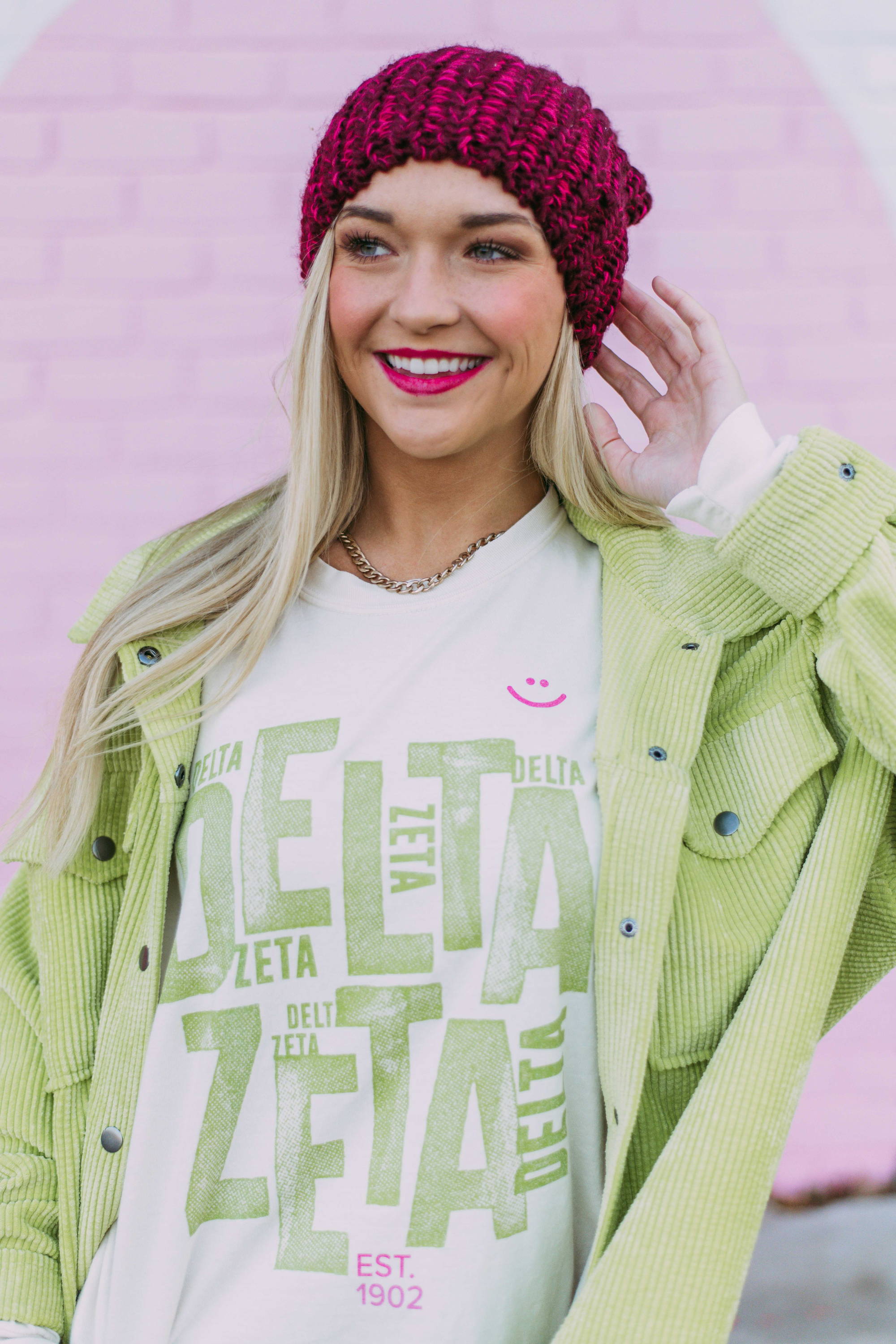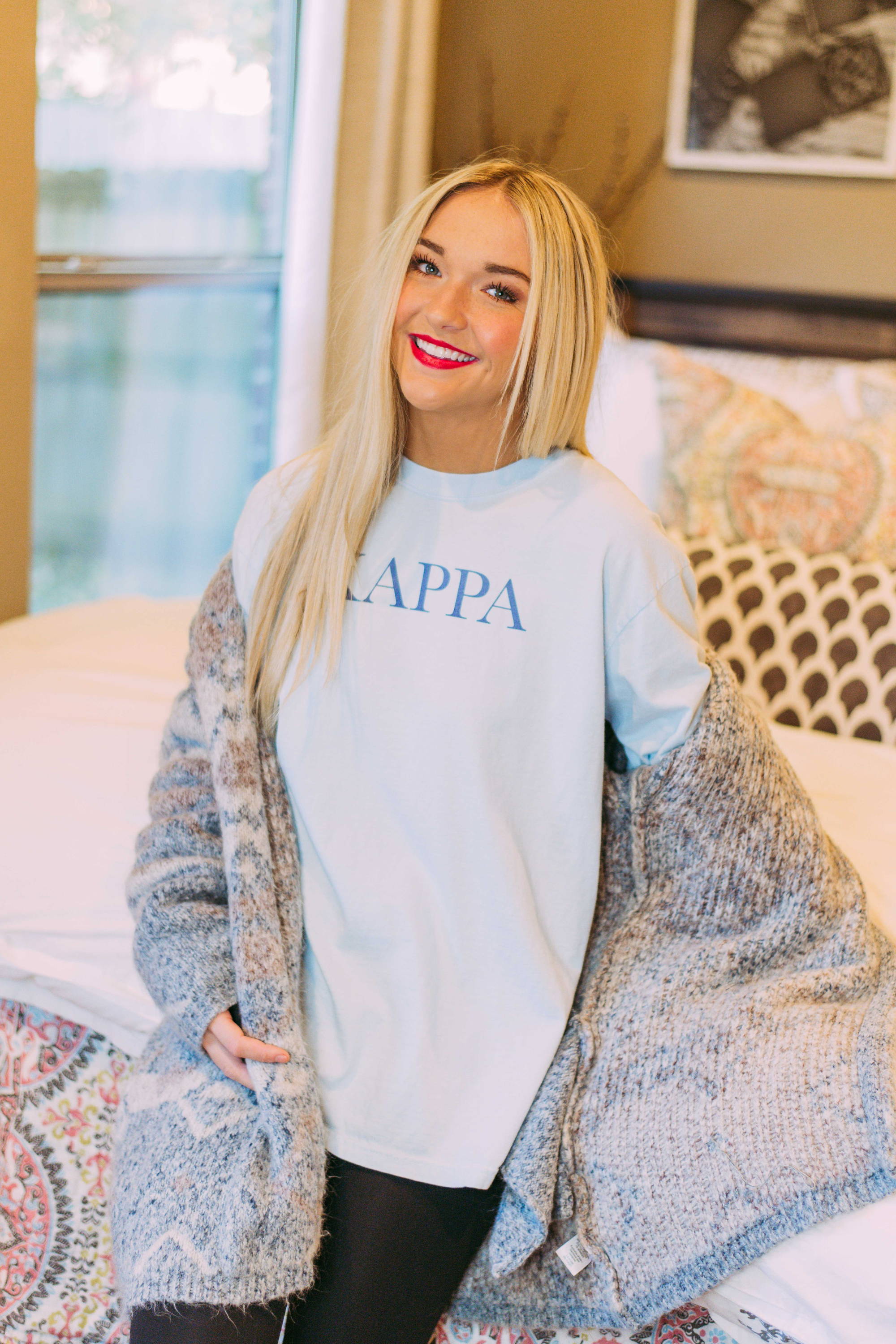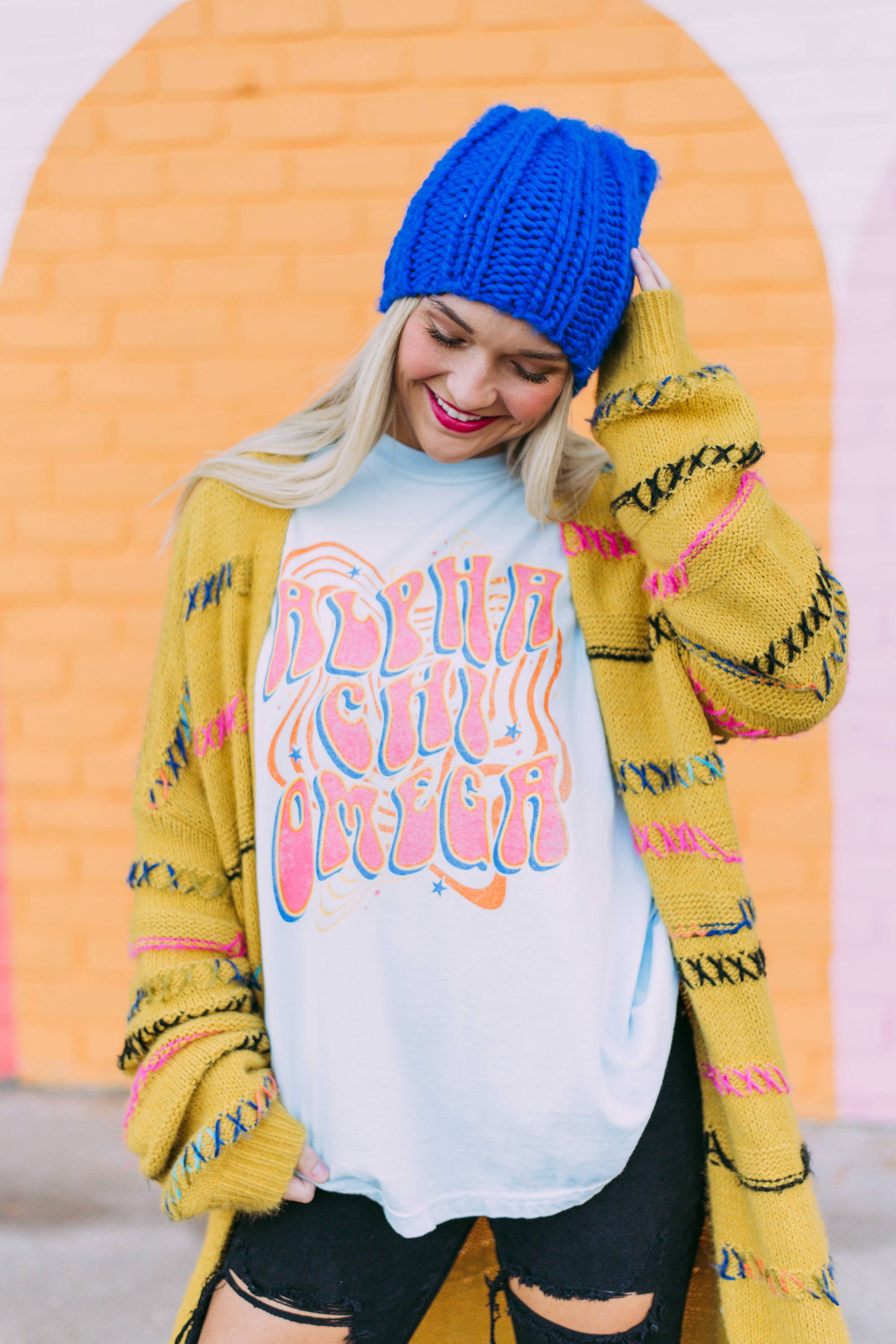 Next up, the ash grey crewneck. This is another basic that will have you feeling all comfy and cozy while listening to "Red (Taylor's Version)" or "30." It's the perfect blank slate to do whatever you want, just like that post-breakup feeling. It's super soft, however, to comfort you through the SGA season.
The light grey color is a classic neutral - you can't go wrong with it. Dress it up with light wash jeans, booties, and a turtleneck underneath. A simple chain necklace will add some edge and make the whole fit give off "I've been through some stuff, but I'm stronger now" energy. If you're still in the thick of SGA season, however, go casual with leggings and a messy bun to listen to the album for the 3rd time (today).
This style is at #4 because it is so versatile. It can be dark and moody, or bright and trendy. It literally all depends on the design you choose to show off your chapter. But that's the beauty of SGA - it's not all sad, per say. There's upbeat songs, funny one-liners, and girl boss themes throughout. You don't have to sit in a a dark room with a single candle to appreciate the season, and the ash grey crewneck proves that.
BEST SGA SONG TO JAM TO W/ THIS STYLE:"I Bet You Still Think About Me" - Taylor Swift
3. charcoal corduroy hoodie
Next up, the charcoal corduroy hoodie. This style brings us officially into the "moody, reflect on all your past relationships and eat all the sweets you can find" vibe. It's still structured and stylish, but the corduroy fabric gives it that soft vintage feel.
The charcoal color is really what makes this hoodie #3 on the Sad Girl Autumn ranking. It's distressed, unique, and dark ... similar to a lot of SGA songs on both Taylor's and Adele's albums. If the season Fall had a mayor, it would be corduroy. Easy as that. Leaves are falling, pumpkin spice lattes are at every turn, people are wearing corduroy. It's just natural.
The hoodie makes this style fit the SGA vibes even more, but especially Adele's version. The high quality hoodie with thick, structured fabric is for sure Adele approved, no debate needed. Put the hood up, keep your hands warm in the front pocket, and walk through the streets of London at night jamming out to this album.
**Do I live in London? No ... but this is the vibe we're going for so let's just imagine**
So maybe you're not Adele, but bright white designs on this dark grey sweatshirt will have you feeling like a star. Add literal stars for a graphic moment, or go with a butterfly or smiley face. You can also keep it classic and just add your sorority name and established date, making the hoodie as timeless as the SGA albums. Whatever you choose, know that this style will make all your Fall dreams come true.
BEST SGA SONG TO JAM TO W/ THIS STYLE:"Easy On Me" - Adele
2. charcoal corduroy henley
Staying on the cord train, the charcoal corduroy henley! This long sleeve is still moody, giving off those dark and stormy London vibes. The corduroy fabric is still as soft as ever, keeping the cozy factor at a 10. This style is a henley, however, changing up the SGA vibe.
The faded fabric gives off vintage vibes, making you want to look back in time at all those relationships that "could have been." It's still a bold and trendy style, though, so the past will not hold you back when you're rocking this henley. Bright white designs pop on this style, whether its just on the left chest or across the front. Like the hoodie, you can go graphic and fun or simple and timeless - whatever your chapter wants!
So if it's the same fabric as the hoodie, why is the henley ranked above it? Well, it's very simple. (One of) the best parts of listening to an Adele album is belting along with her. In your head you sound just as good as her, and for the sake of Sad Girl Autumn, we will all let you believe that. But, what do you need to properly belt and dance to these power ballads?Unlimited movement! This henley has the perfect oversized fit that will let you sing all day long with your fav songs.
The longer fit also makes this henley super fun to style! You can tuck it easily into high-waisted jeans, adding a pop of color in a hair scarf or hat to make this style less moody. You can keep the style completely free with leggings and sneakers, allowing for peak "chapter-wide dance party" vibes. Listening to Adele at a Sisterhood Retreat wearing this comfy henley?? Count me in!
BEST SGA SONG TO JAM TO W/ THIS STYLE:"To Be Loved" - Adele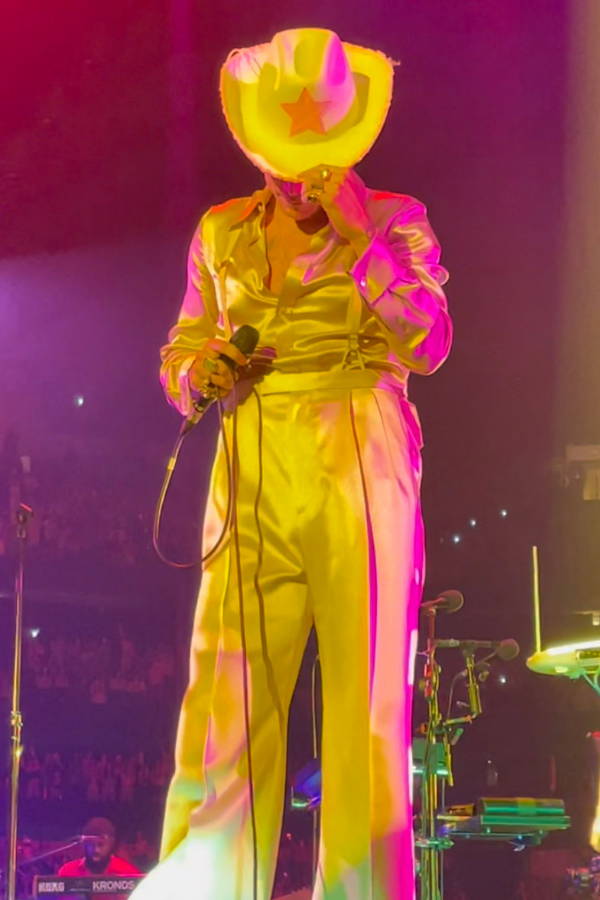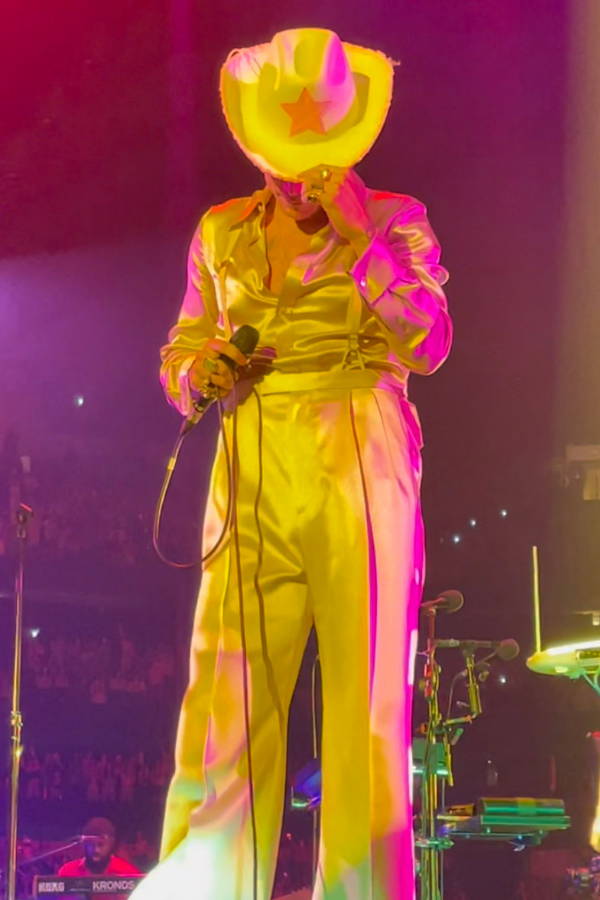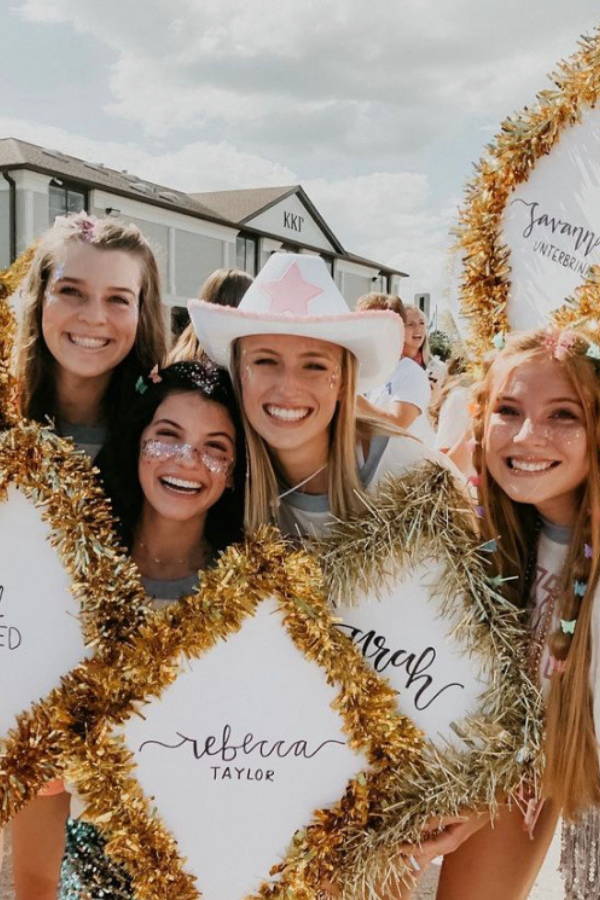 1. thermal long sleeve henley
Finally, the winner. The most Sad Girl Autumn style there is - the thermal long sleeve henley. This henley exudes so much SGA energy I can't even begin to explain it. The buttery soft fabric, neutral tones, oversized fit ... it's all perfect. When you look at this thermal, all you should think about is lighting a bunch of candles and listening to these albums on repeat with your closest friends.
It comes in a creamy white and heather greyoption, making it the best neutral to match with your warm toned accessories. Navy and red designs look perfect with these colors, especially if they have a distressed effect to them. This will really complete the vintage look that the thermal henley already has. And, if you go with a red design, you're showing your love for Red (Taylor's Version) even more! A true win-win situation.
This is the long sleeve you will wear while overanalyzing every lyric, searching TikTok for all the easter eggs you missed while listening to the album. You'll wear it to class, playing your fav power ballads on repeat to get you into the Fall spirit. You can also rock this for a dressier event! You do not have to sacrifice comfort for style, and this henley is solid proof. Pair with high waisted jeans, a flat-brimmed hat, and gold jewelry - perfect!
This is not a style you're going to want to leave at your boyfriend's sister's house from that very first week. He will keep it in a drawer and you will never see it again - that's how soft this style is. The button neckline is also super unique, with ruched detailing that sets it apart from regular thermals. You could say it looks like a crumpled-up piece of paper ... too far? Maybe so.
BEST SGA SONG TO JAM TO W/ THIS STYLE:"All Too Well (10 Minute Version) (From the Vault)" - Taylor Swift
Sad Girl Autumn, what an important time in history. Yes, that's right, HISTORY. Will we get two emotional albums from female artists this close together in the future? I hope so. But in the meantime, we can appreciate these ~works of art~ with the appropriate sorority PR. Whether it's as simple as the long sleeve tshirt or bold as the charcoal cord, you'll fit the vibe perfectly.
Ready to show your love for Taylor/Adele AND your sorority? Get a proof going today for one of these Fall favs!