It's a sorority classic for a reason, right? Sometimes you really can't go wrong with the timeless Comfort Colors T-shirt.
Whether for a date function, philanthropy event, founder's day, or PR just because - this tee will have your whole chapter looking and feeling comfy :))
As a sorority member, you are always on the go, whether you're headed to chapter, participating in service events, or just hanging out with your sisters. Comfort Colors pocket tees are the perfect choice for this busy, active lifestyle because of their comfort and convenience. Made with a soft, lightweight fabric that feels great in any weather, these comfort colors pocket t-shirts are perfect for wearing all day long, no matter what you have planned.
In addition to being comfy and easy to throw on, Comfort Colors pocket tees are also stylish and versatile. They have a relaxed, casual fit that is perfect for everyday wear, but they can also be dressed up with the right accessories. This makes them a great choice for a wide range of sorority events, from philanthropy tabling to weekend sisterhood hangs. And because they are so popular among college students, wearing a comfort colors t-shirts with designs can also be a great way to show off your sorority pride and connect with other members of your chapter.
With so many style and color options, though, it can be hard to pick your fav (and whether or not it's in stock.)
We totally understand the struggle! That's why we have piled together all of our current available styles, what colors they come in, and what makes them a great sorority tee option!
**HEADS UP: Style availability may change, depending on stock craziness. We will continue to update this page, however, to keep y'all as in the know as possible!**
Let's take a look into the what makes the custom color pocket t-shirts with design so popular, what styles we currently have, and the rainbow variety of colors to choose from! Enough lead-up; let's talk shirts!
---
Okay, so you know you want Comfort Colors - but what style?? Pocket, no pocket, long sleeve, short sleeve, it can start to get overwhelming fast. Well ... thankfully we have all our available styles (and what gorgeous colors they come in) listed below!
The Front Pocket Short Sleeveis the king of Comfort Colors tshirts. This is the go-to style for any design where you want the back to shine! Simple on the front pocket, bold on the back design. Thankfully, we have a large selection of colors currently available in the pocket tee to help make your design dreams a reality! Choose your Comfort Colors pocket t-shirt with design today!
Comfort colors pocket t-shirts are more than just a piece of clothing - they are a statement of your style and values. By choosing these shirts for your sorority apparel, you are choosing quality, comfort, and sustainability. You are also showing your commitment to your chapter and your pride in being a sorority member. So why not make a bold statement and invest in a few of these amazing shirts? You'll love the way they look and feel, and your sisters will too. Embrace your unique style and embrace the comfort ofComfort Colors pocket tees.
First off - Bay! Bay is a light green with a vintage, muted effect. It's a great neutral with a pop of color, making it perfect for Fall events or outdoor Sisterhood Retreats. Dark browns, reds, and greens will go well with this tee color and make it look more natural. This olive toned t-shirt is a great safe option for events paired with fraternities or other organizations. It is also great for Dad's Day or nature themed designs!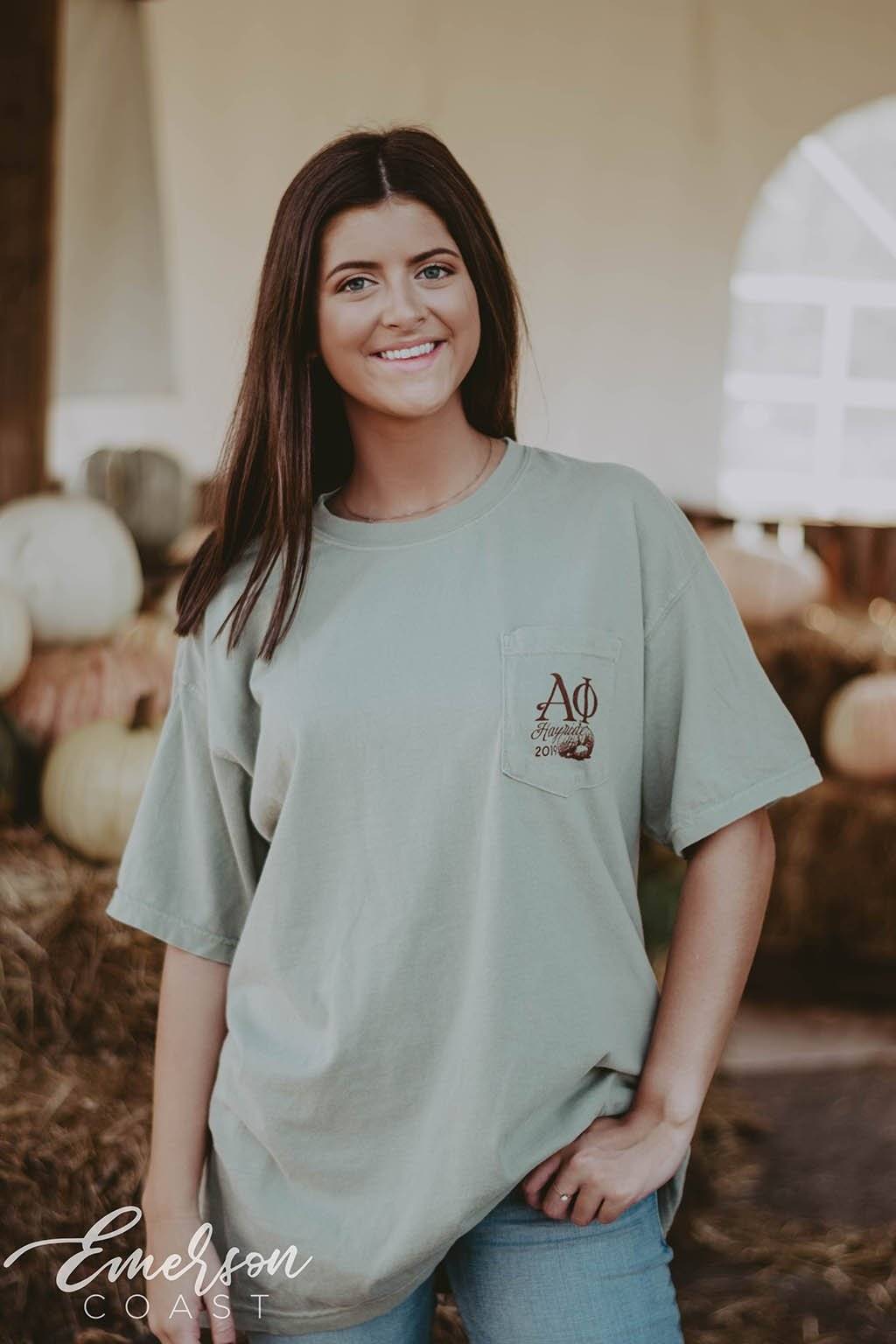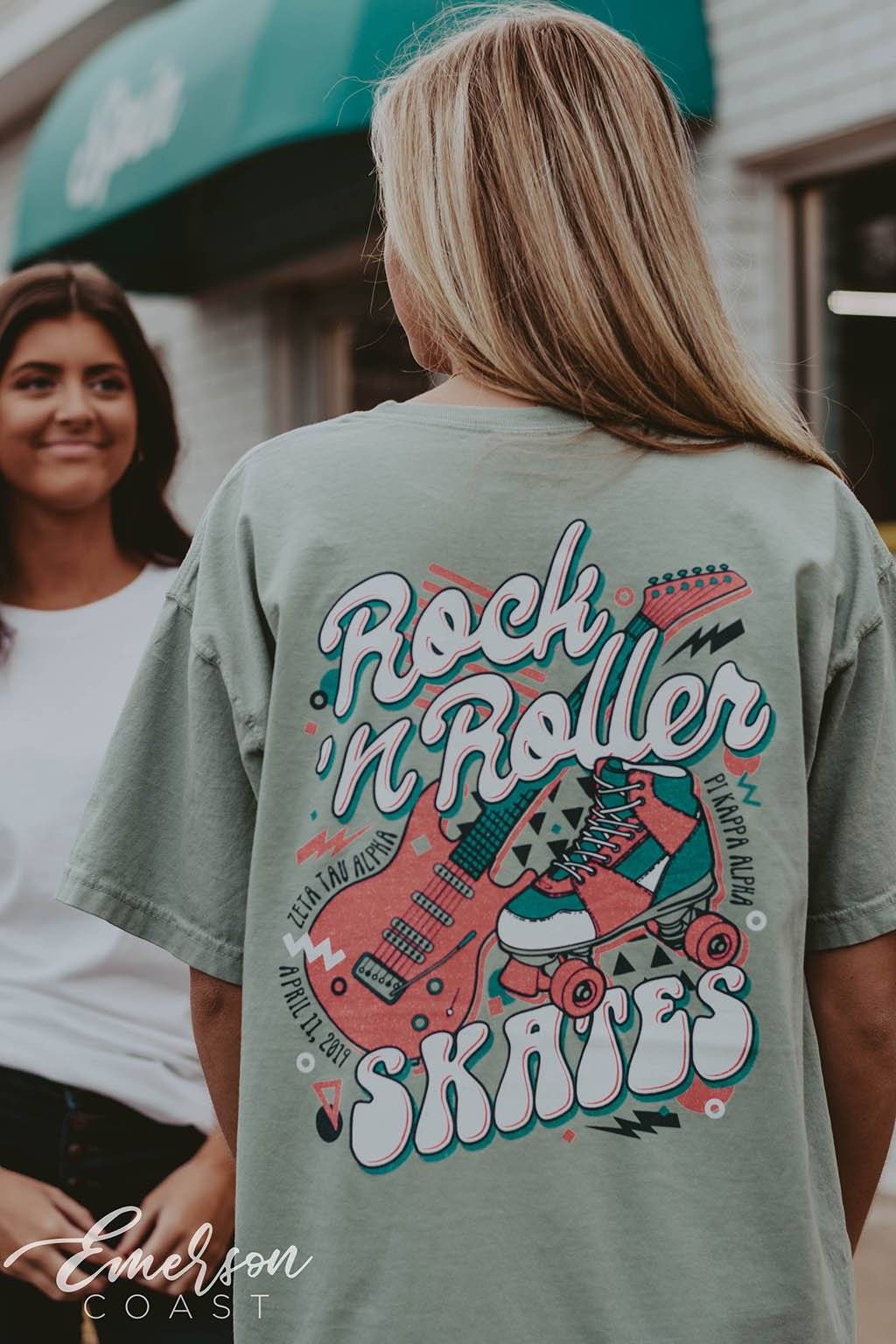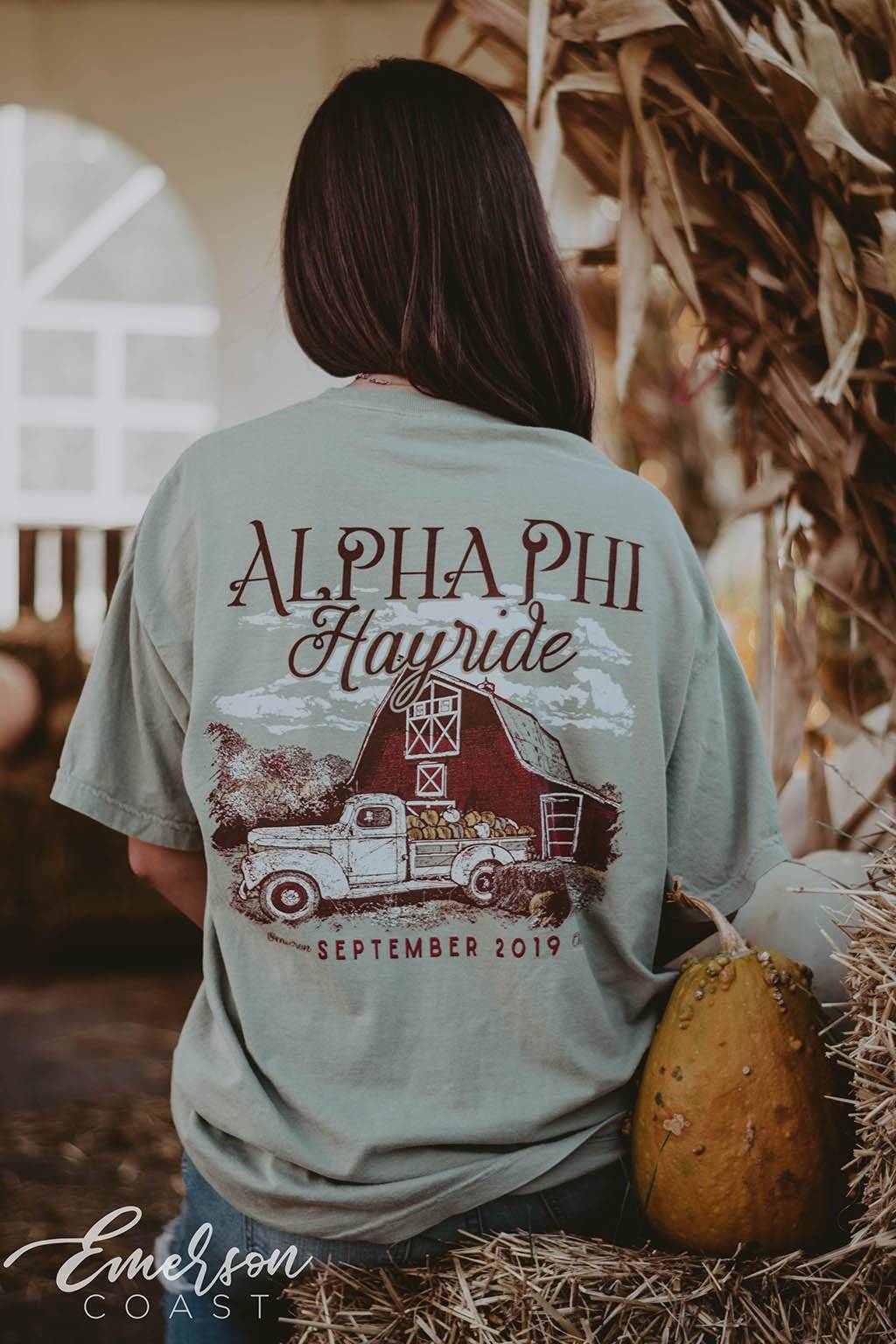 ---
Keep it cute! Blossom is the sweetest bubblegum color, and who doesn't love pink? This light pink tee is dreamy to look at and can work for so many different events and design types. Springtime is really where this color shines! Blossom is a go-to for a Philanthropy event, New Member Retreat, or really anything girly! This sweet hue is also cute for Summer PR, especially with a bright design.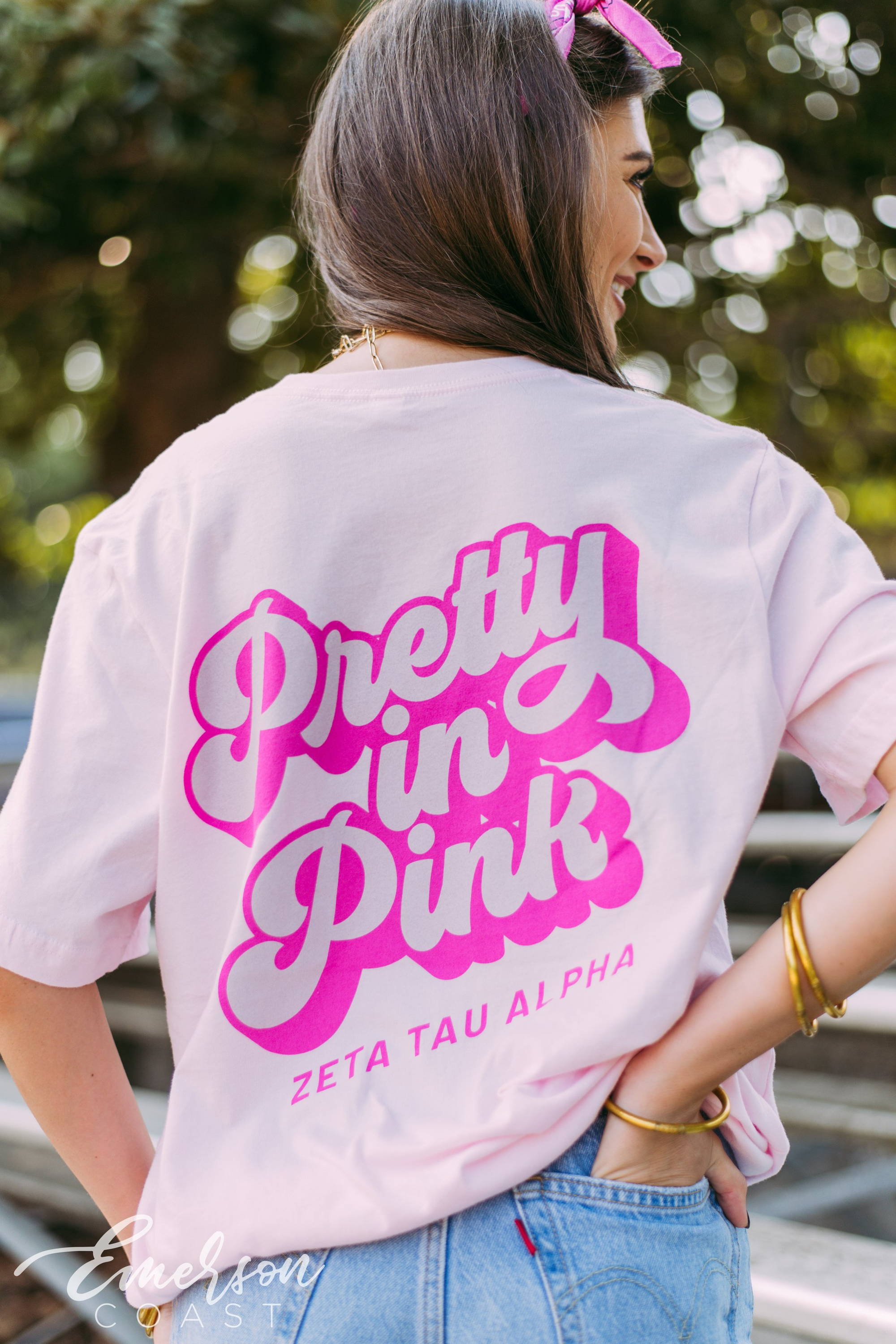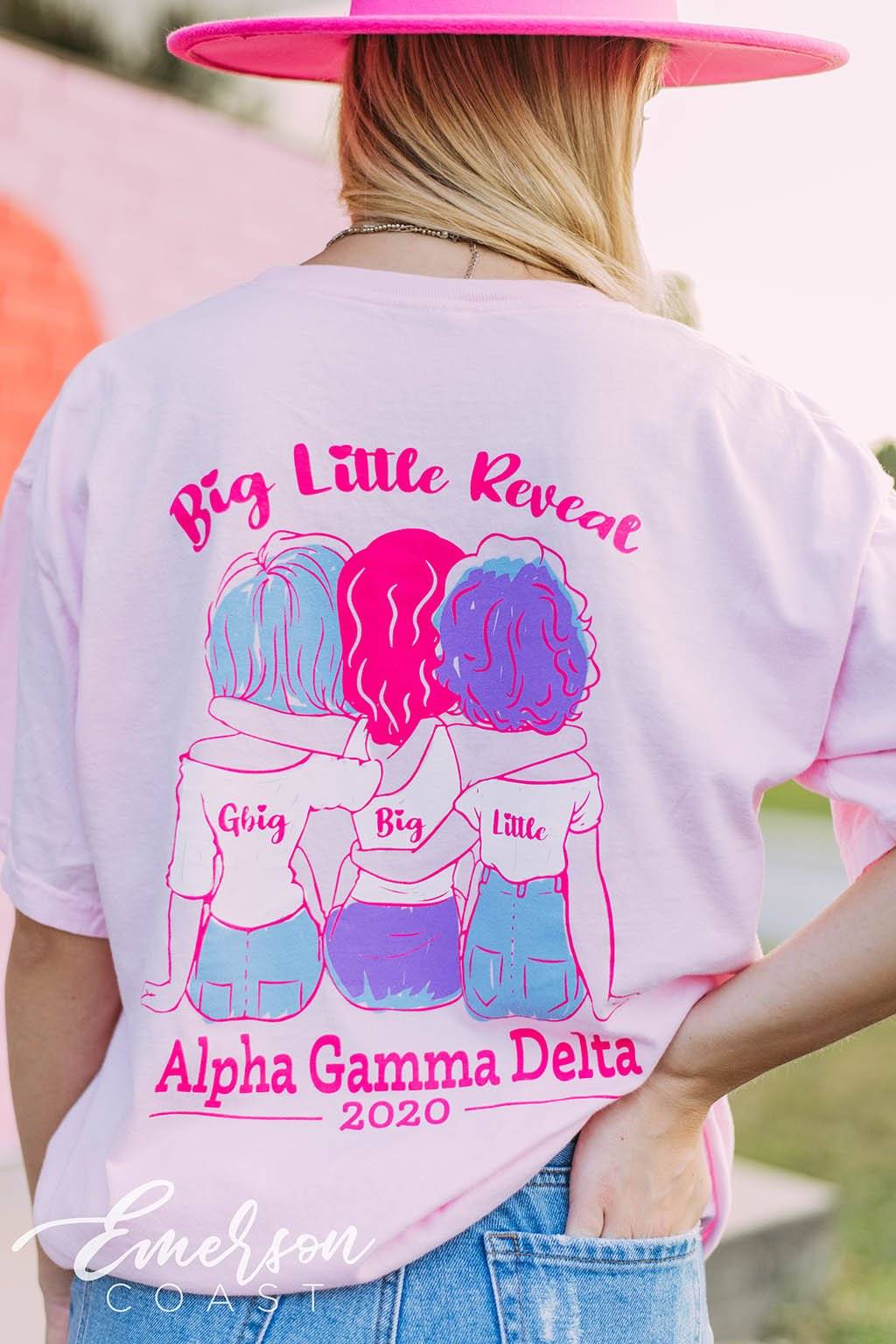 ---
Go more moody with Blue Spruce! This faded tee is a perfect forest green color with a hint of deep blue. This dark teal hue is a great option for Fall/Winter events and functions. Bright whites really pop on this stormy tshirt, as well as bright oranges and reds. If dark green is one of your sorority colors, this would also be a unique Founders Day or general PR tee!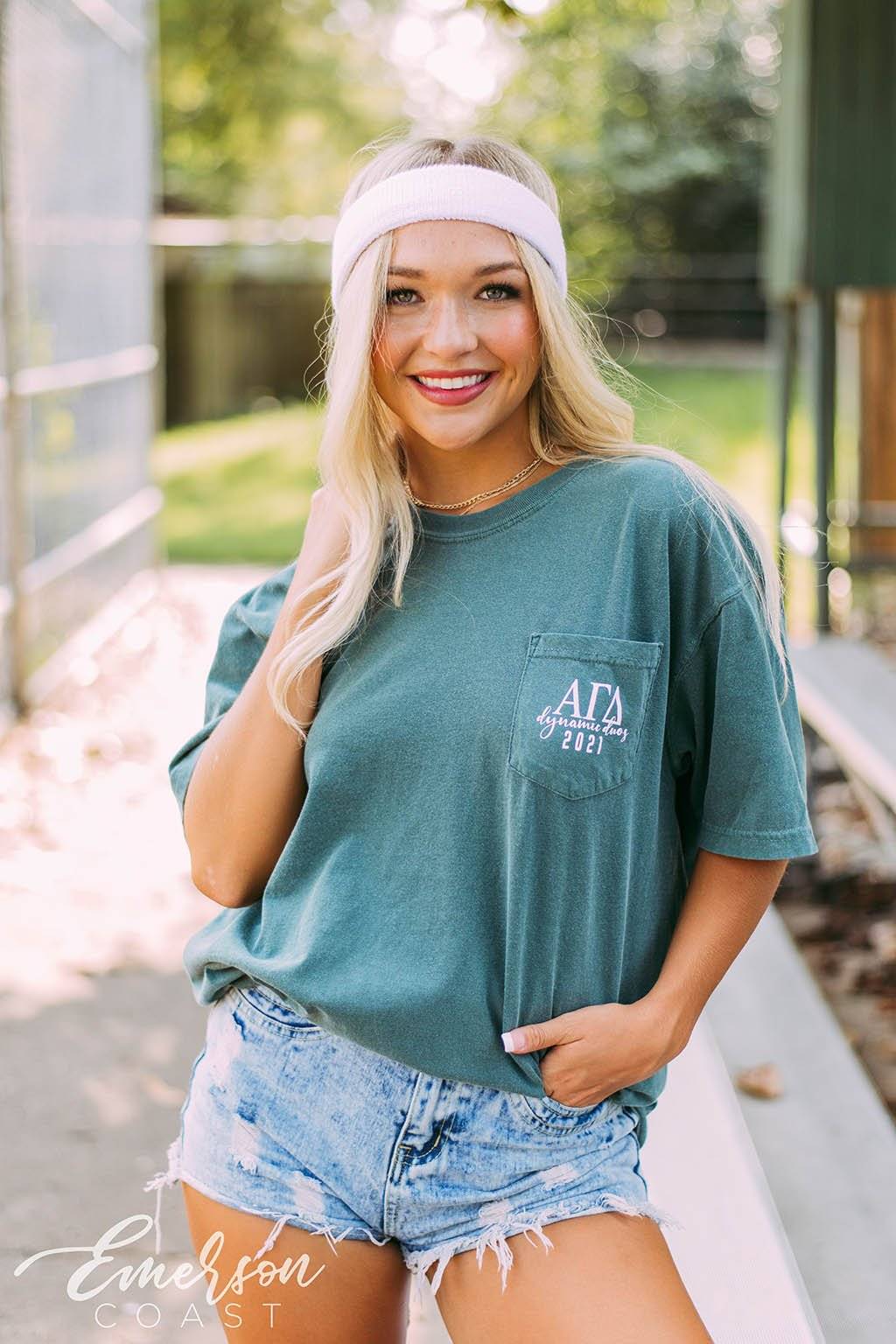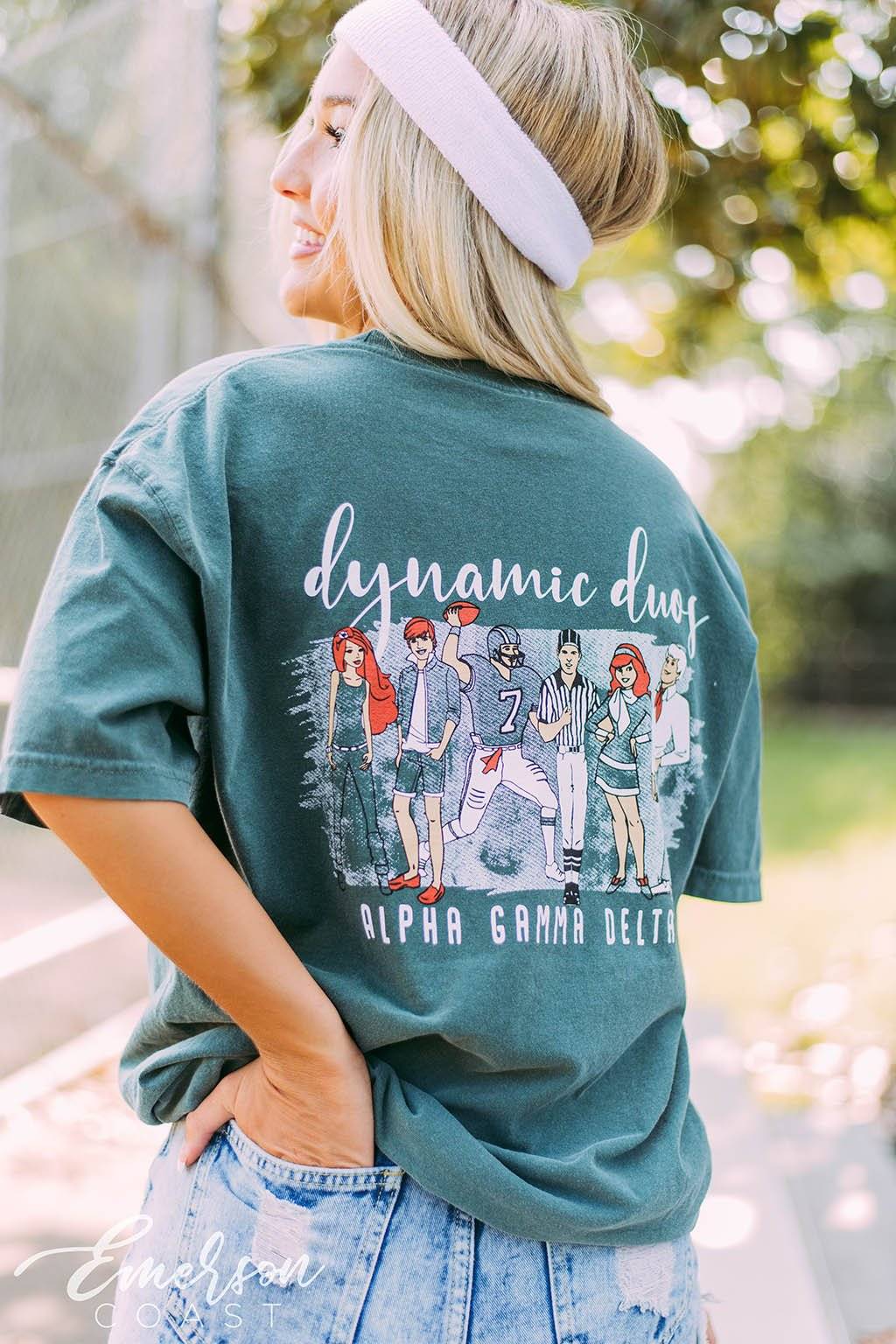 ---
Get ready to look smooth like Butter! This light yellow tee is another great basic that can work for any event. A sweet pastel like this is great for Spring events or Summer PR! Butter is a great middle ground between a bright yellow and cream. It still has that sunshine vibe, but more muted for a neutral look. Any bright colors will pop on this tee, whether its a detailed back design or simple front pocket. Go for bold reds and blues to stick with the primary colors, or add more pastels for a soft Easter tee!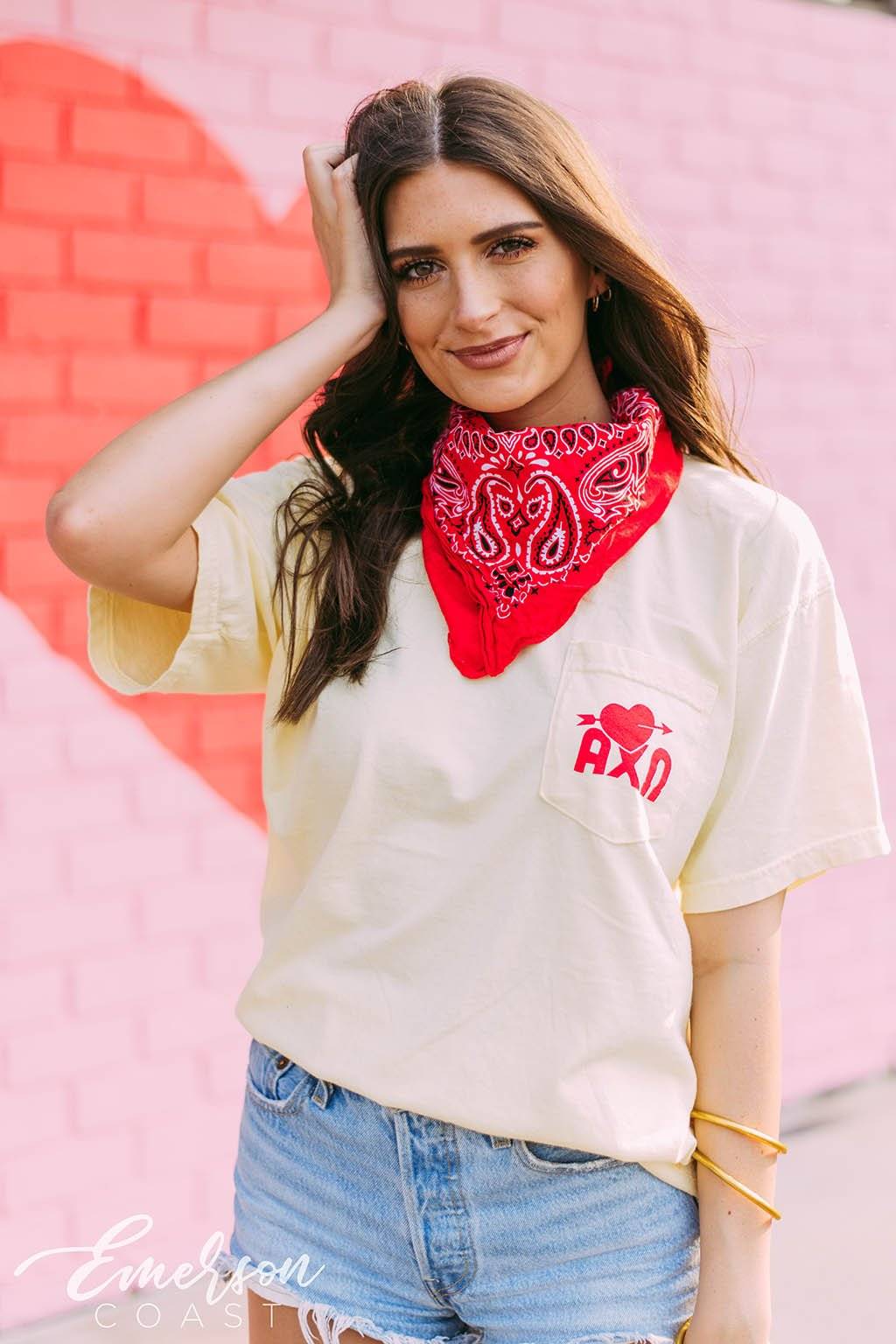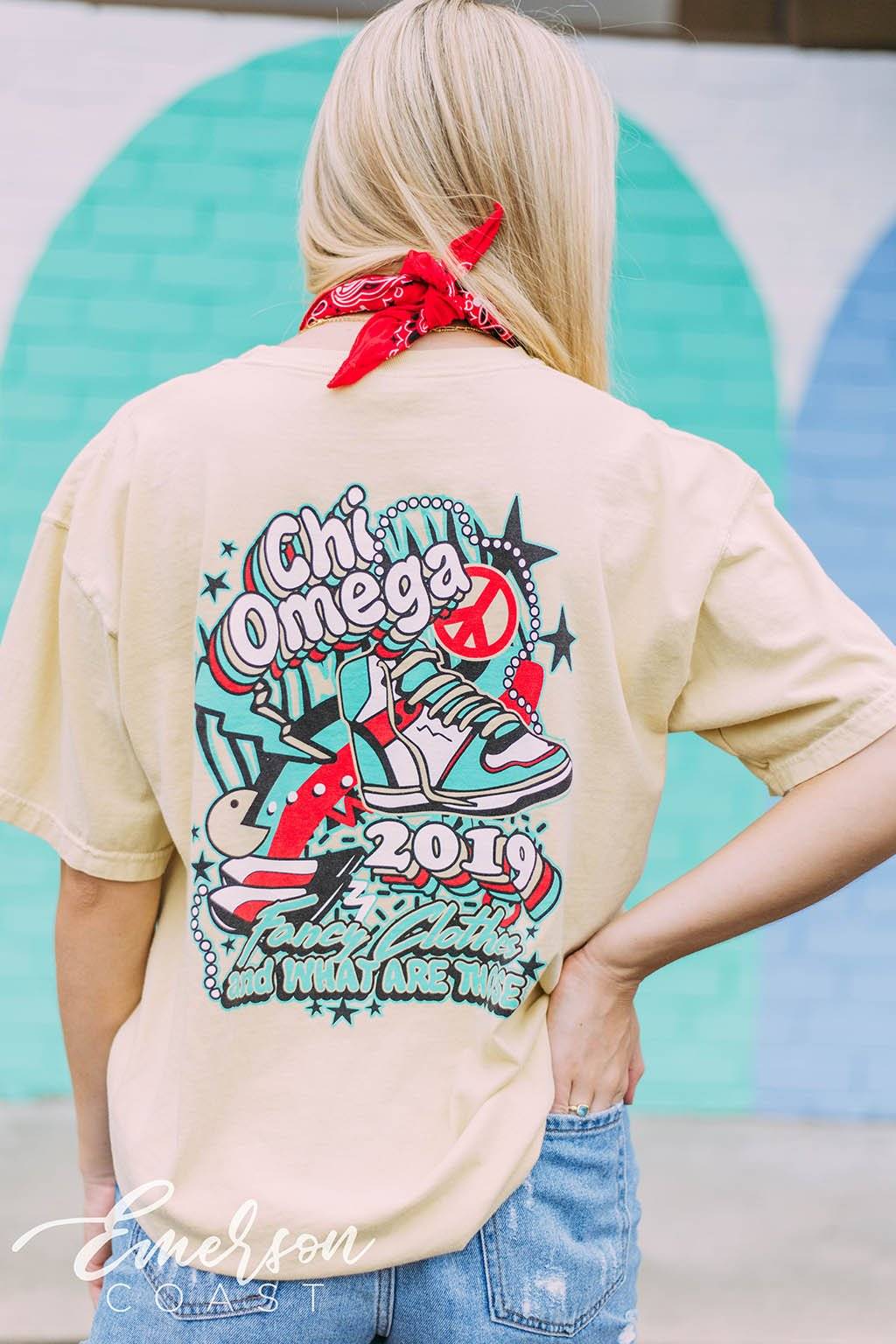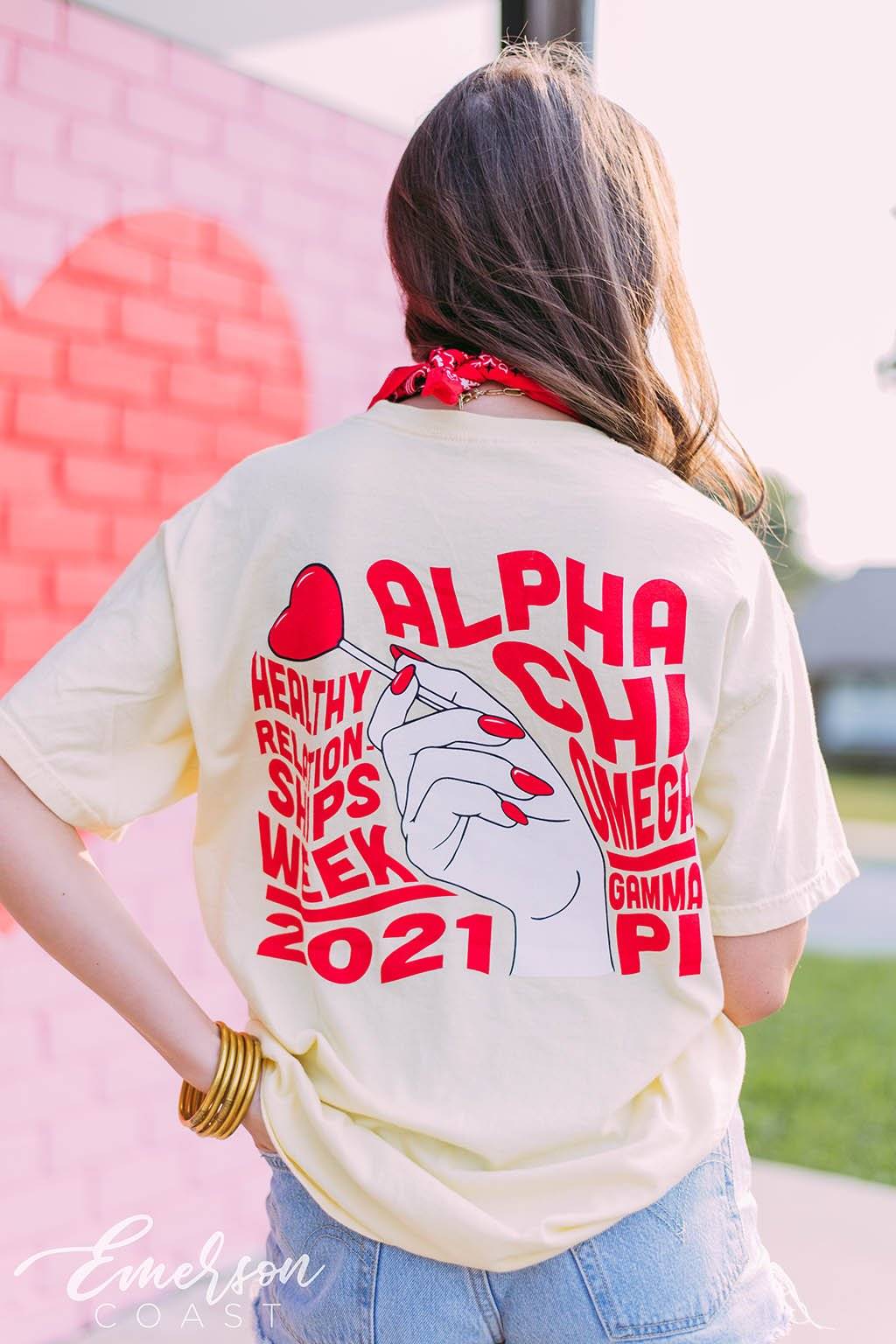 ---
You can't help but smile when you look at the Chalky Mint tee. This bright tshirt is so fun and is amazing for warm weather events. It is a vibrant turquoise hue, reminding us of the big blue ocean. I mean, jsut look at the Anchor Splash design below - the turtle looks like it's swimming! Chalky Mint has a neon look to it as well, making it a perfect option for a throwback 80s theme design. Bright neons, navy, and white will all pop on this bright blue/green tee!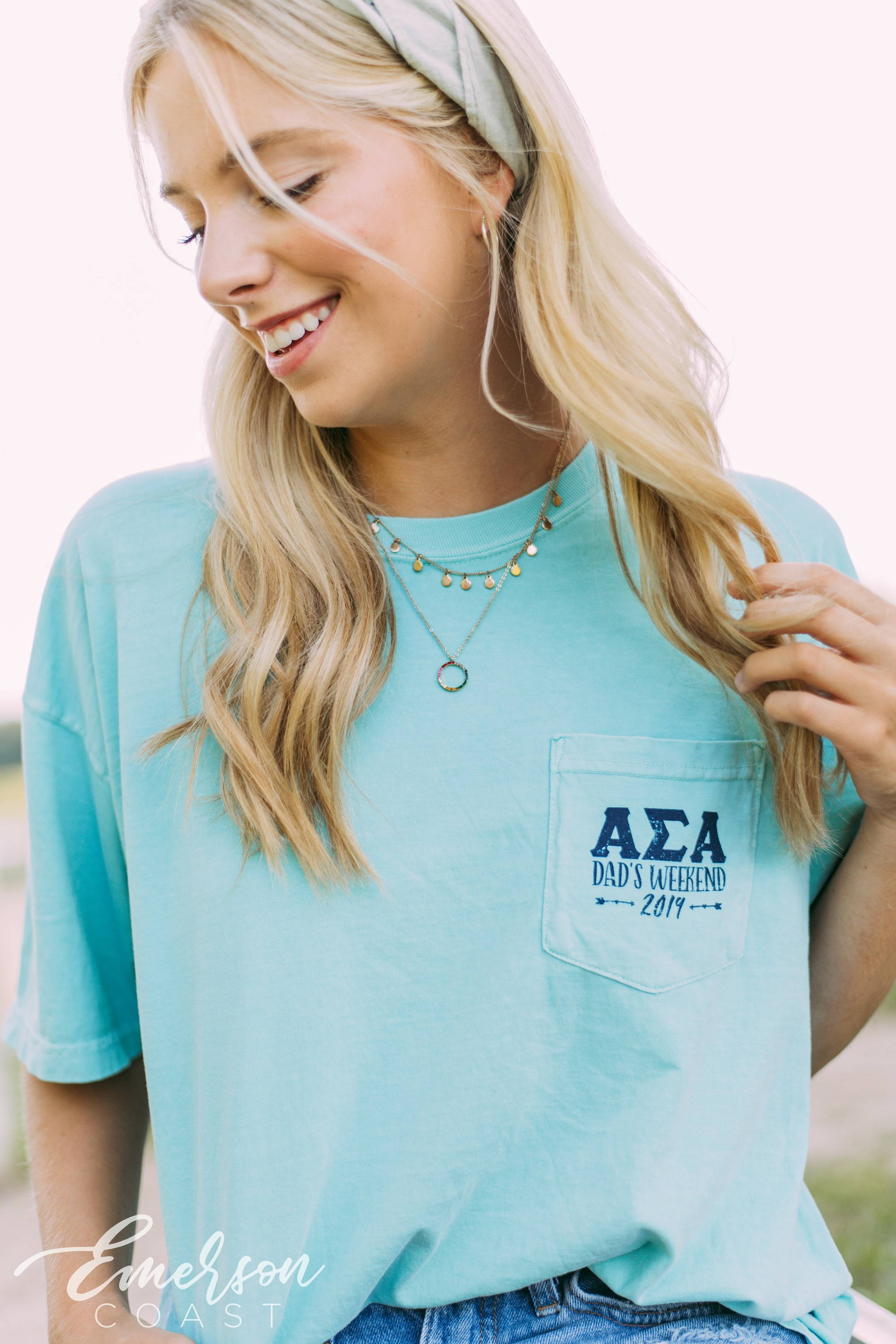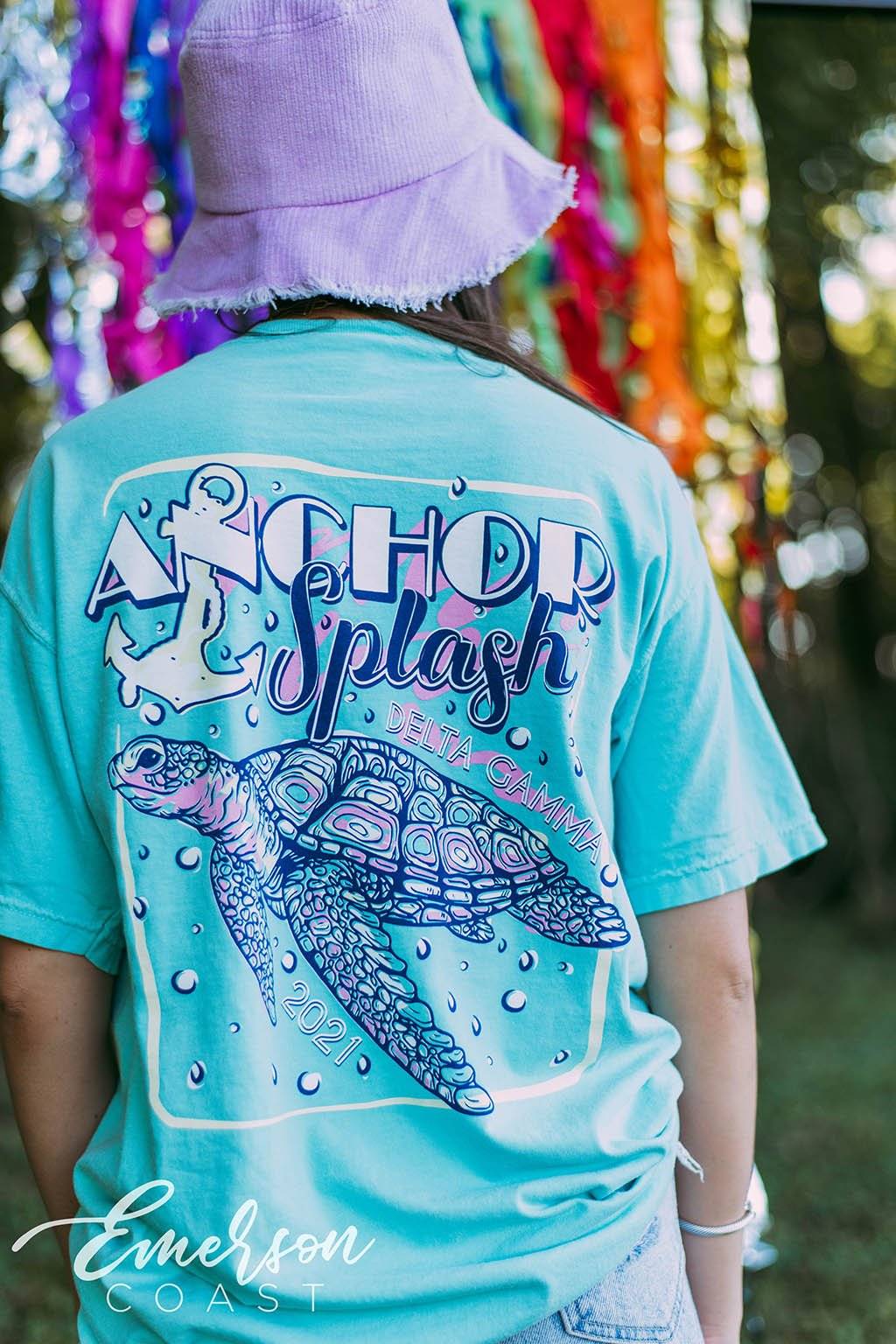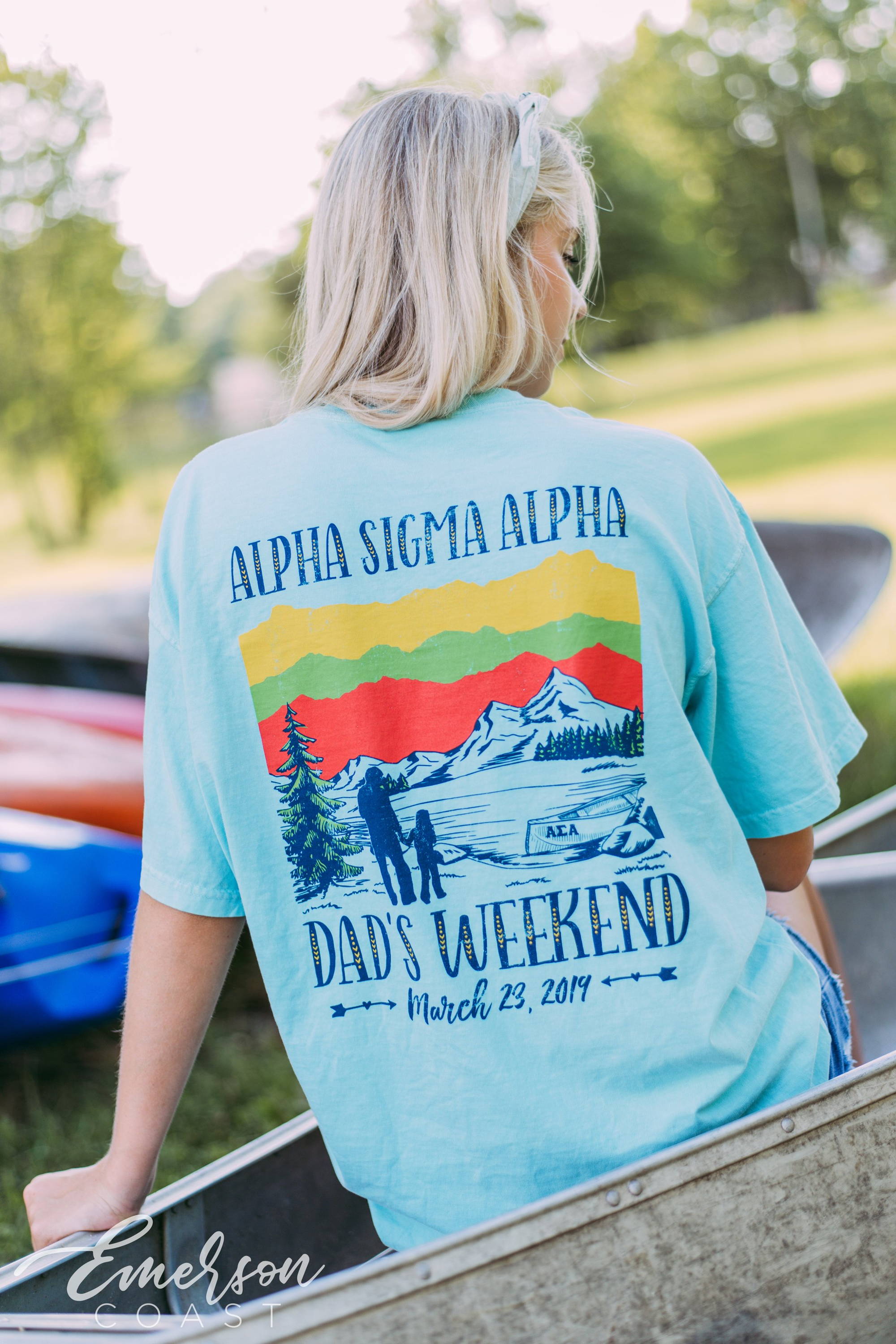 ---
Stick with a classic and go for Chambray. This light blue is a great base for almost any design, and can work for any season. Add white, dark blues, and greys for a chilly Winter formal look. Bright neons or sweet pastels make turn this tee into a Spingtime function shirt! Since this color is so light, it's a good neutral that the whole chapter will love. This is another tee that would look great for Founders Day, especially if light blue one of your colors ... looking at you, Kappa :)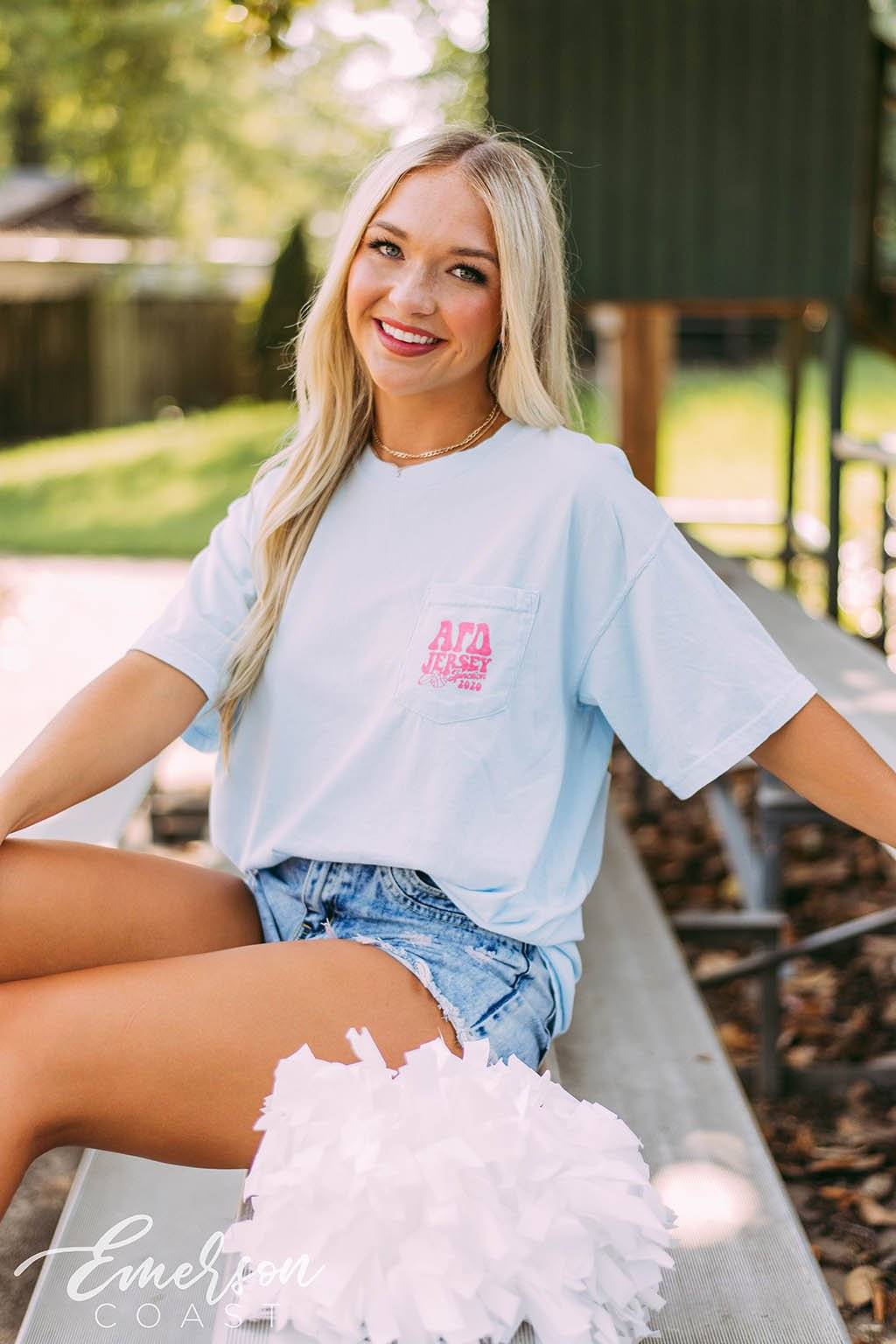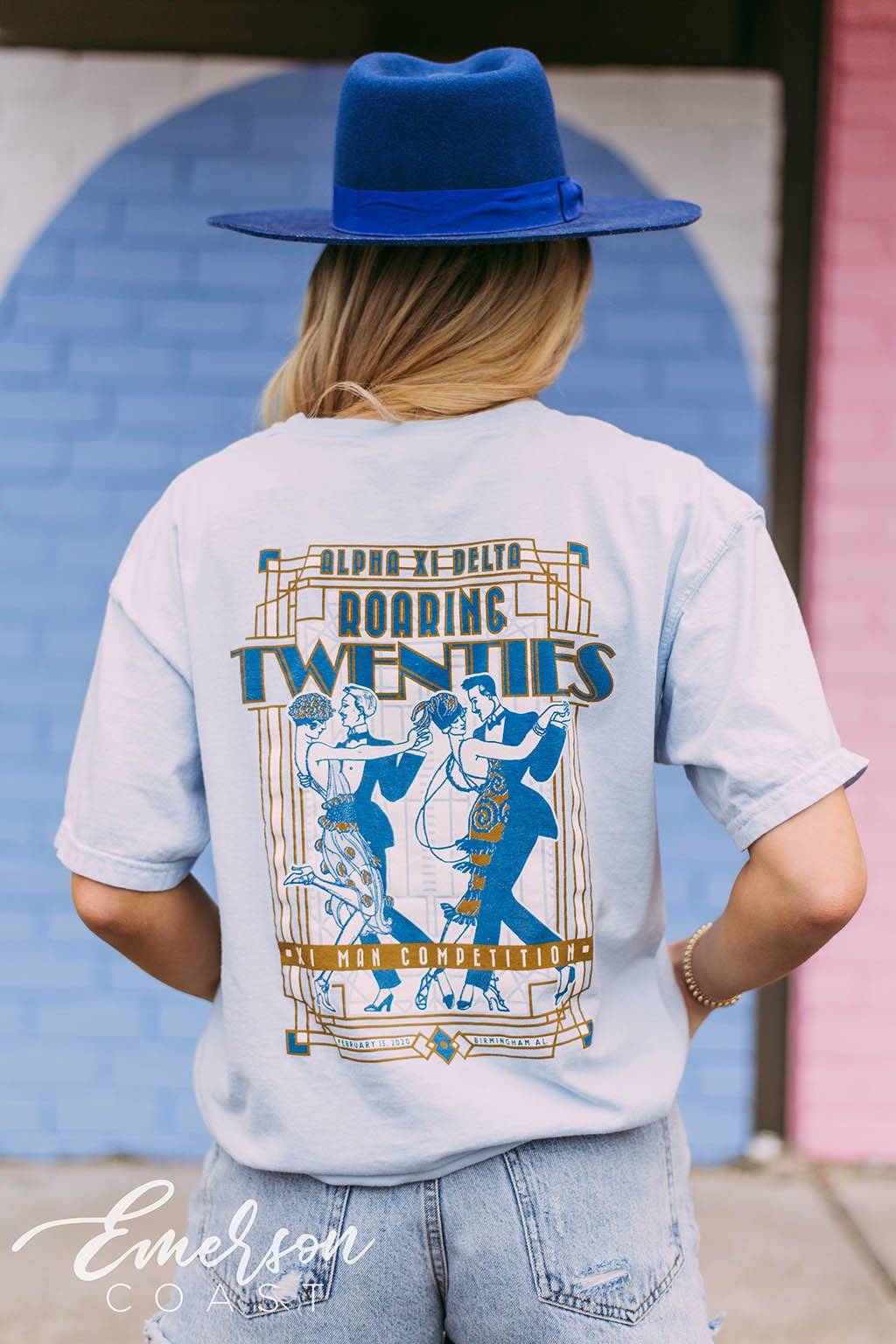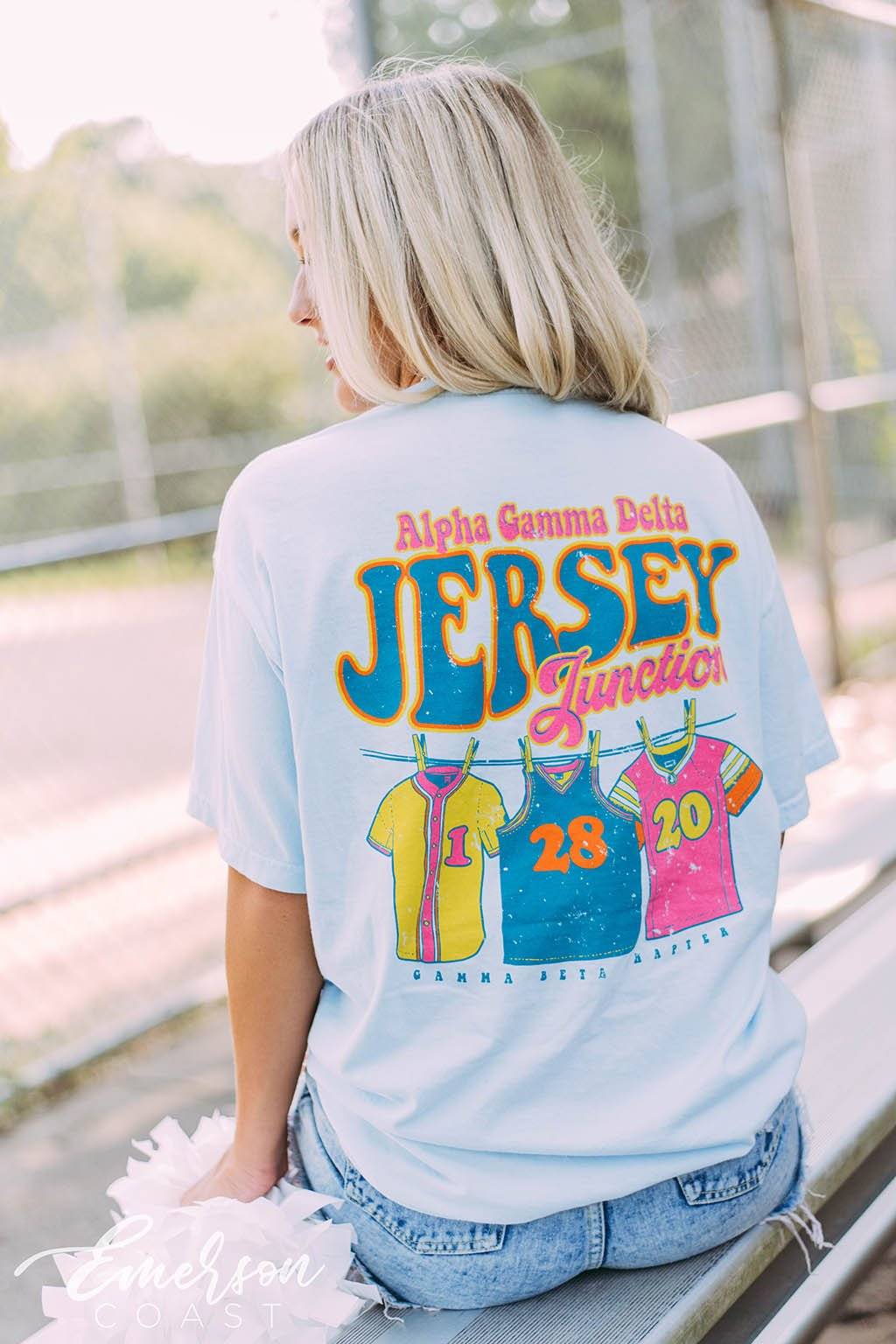 ---
Bo bold with the Crimson color! This faded red is a great statement tee for a sorority event or paired function. Crimson is not as intense as a true red tee - it has a muted look to it. It is still bright, however, and great for detailed designs. A black and white color scheme will give the rust tshirt some extra edge and will really pop on the back and front. This is also a great option for a Red Rose or Red Carnation formal theme!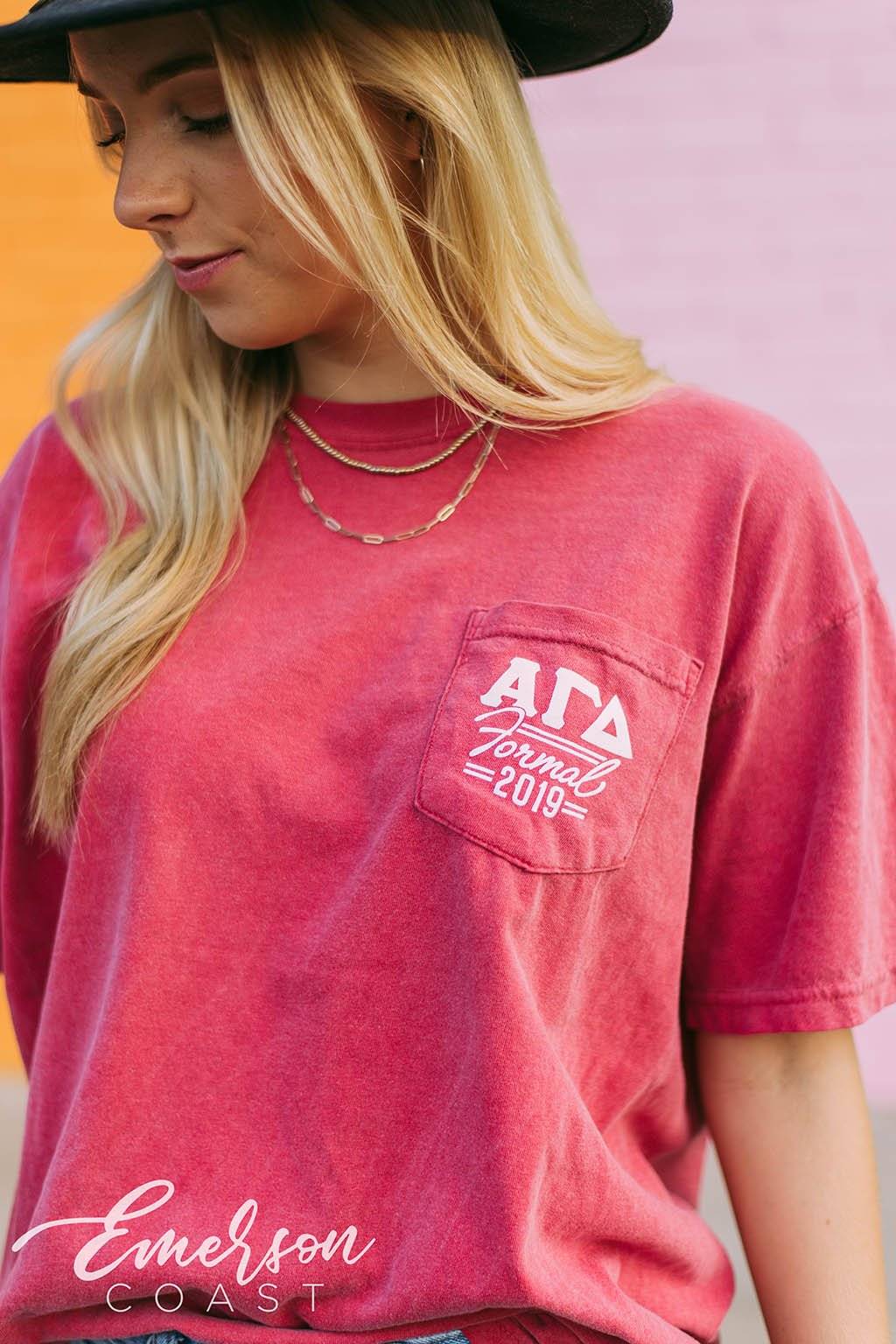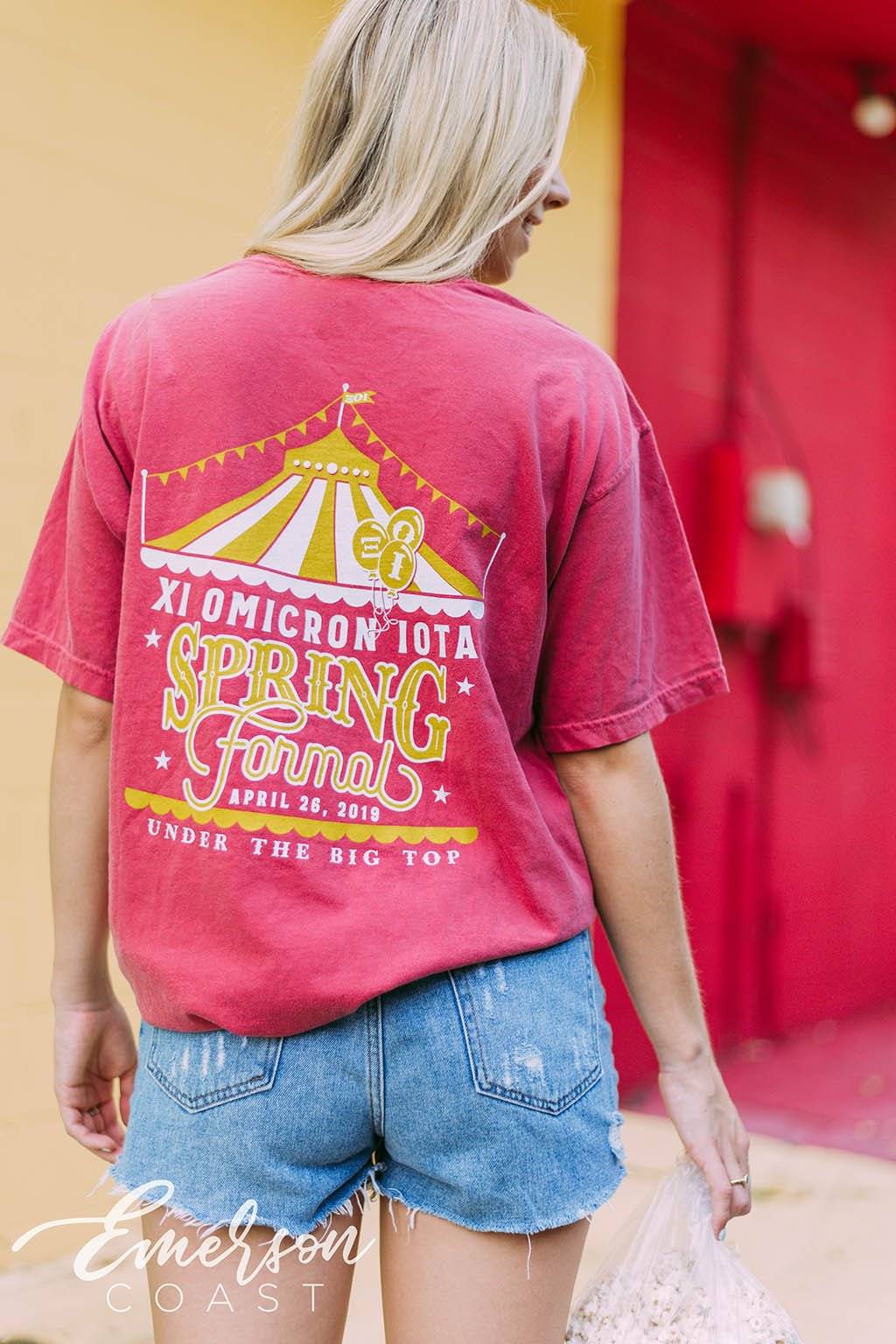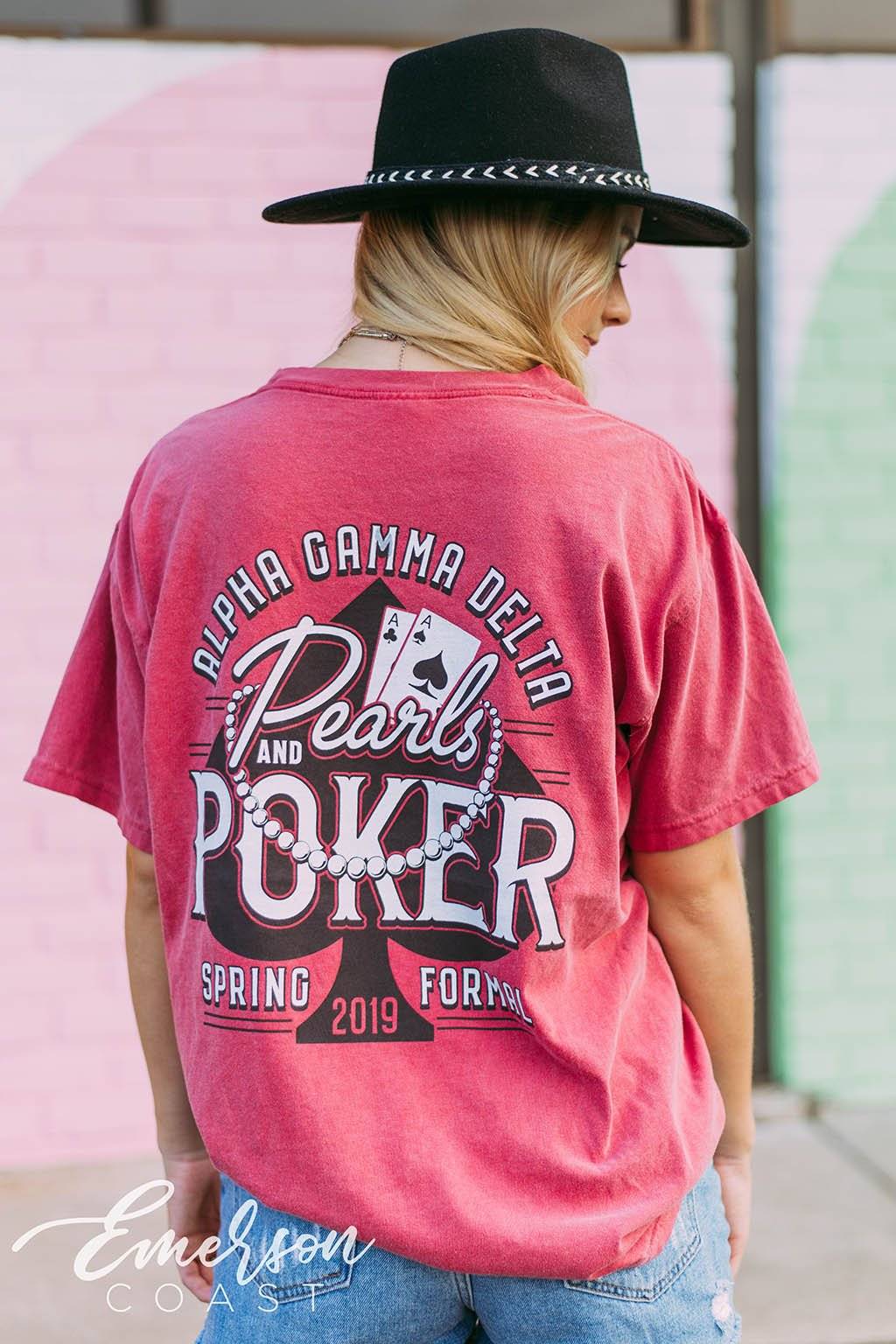 ---
You can never go wrong with a neutral - and Granite proves it! This light grey is a great basic and a safe choice for just about any design. This tee has a ~slight~ blue hue to it, making it softer than a normal grey. This is another color that can work for Winter and Spring - just depends what colors you use! Since just about everyone will wear grey, this is a great option for Dad's Day or a paired function with a fraternity. It couls also work for Homecoming or a sports-related event!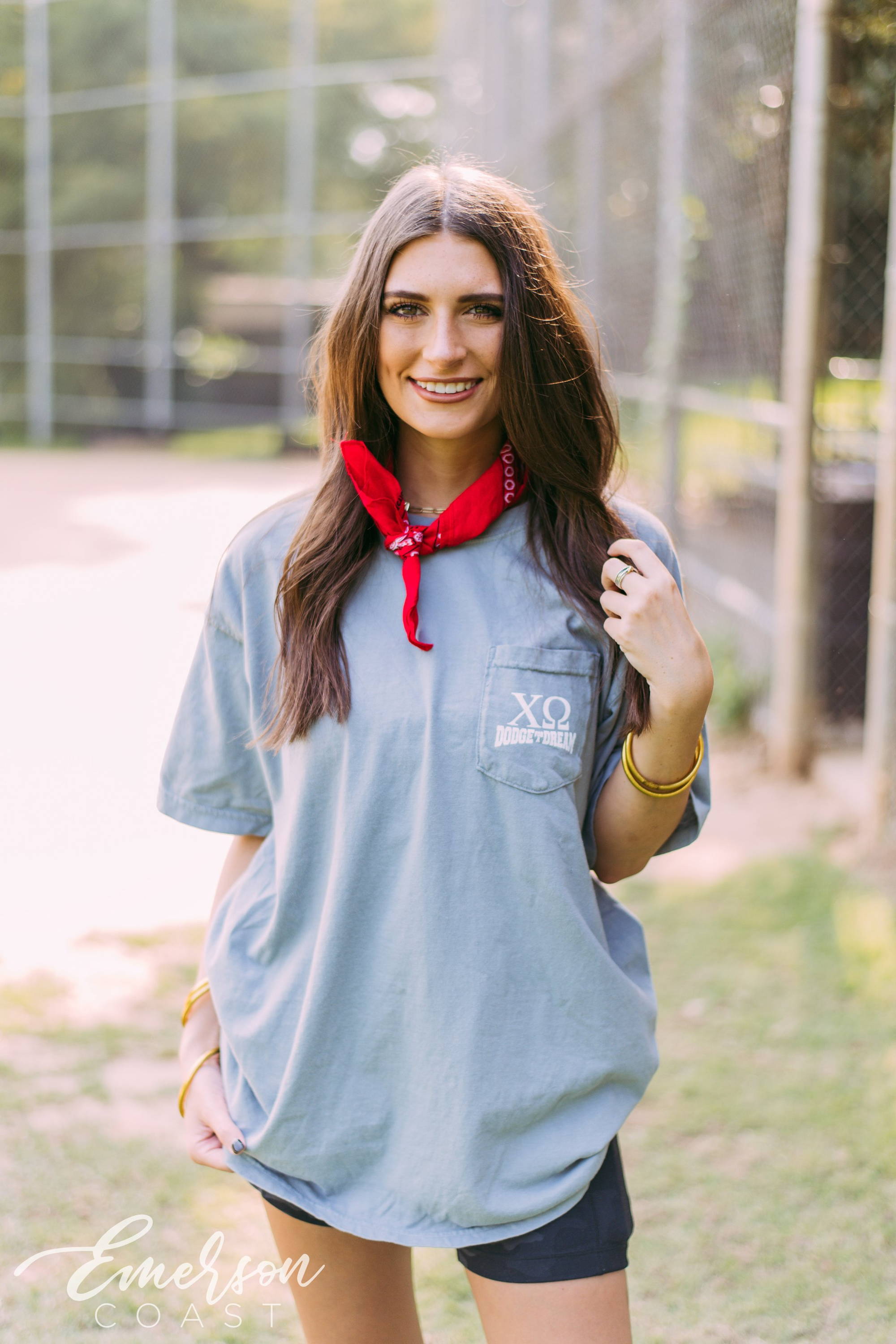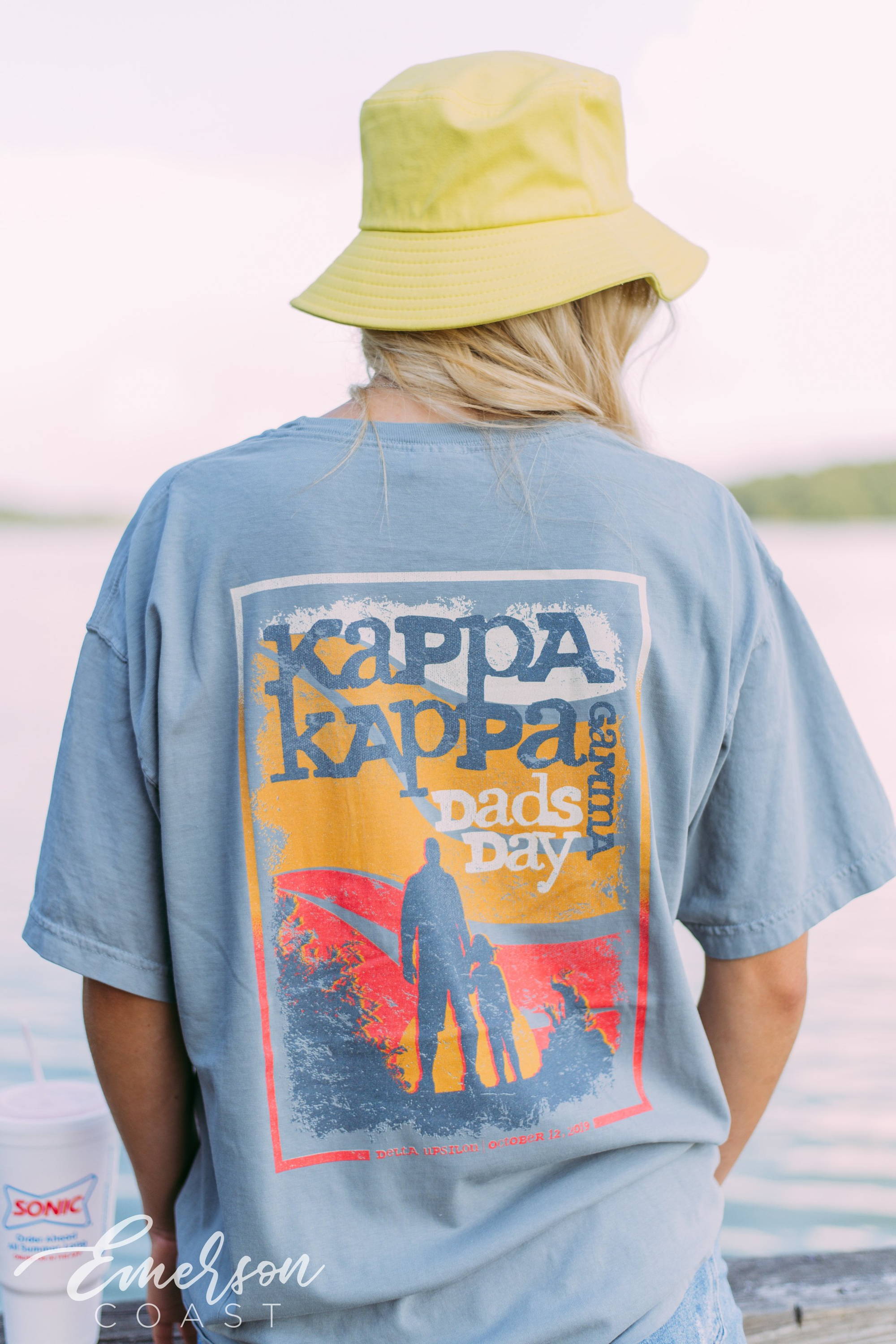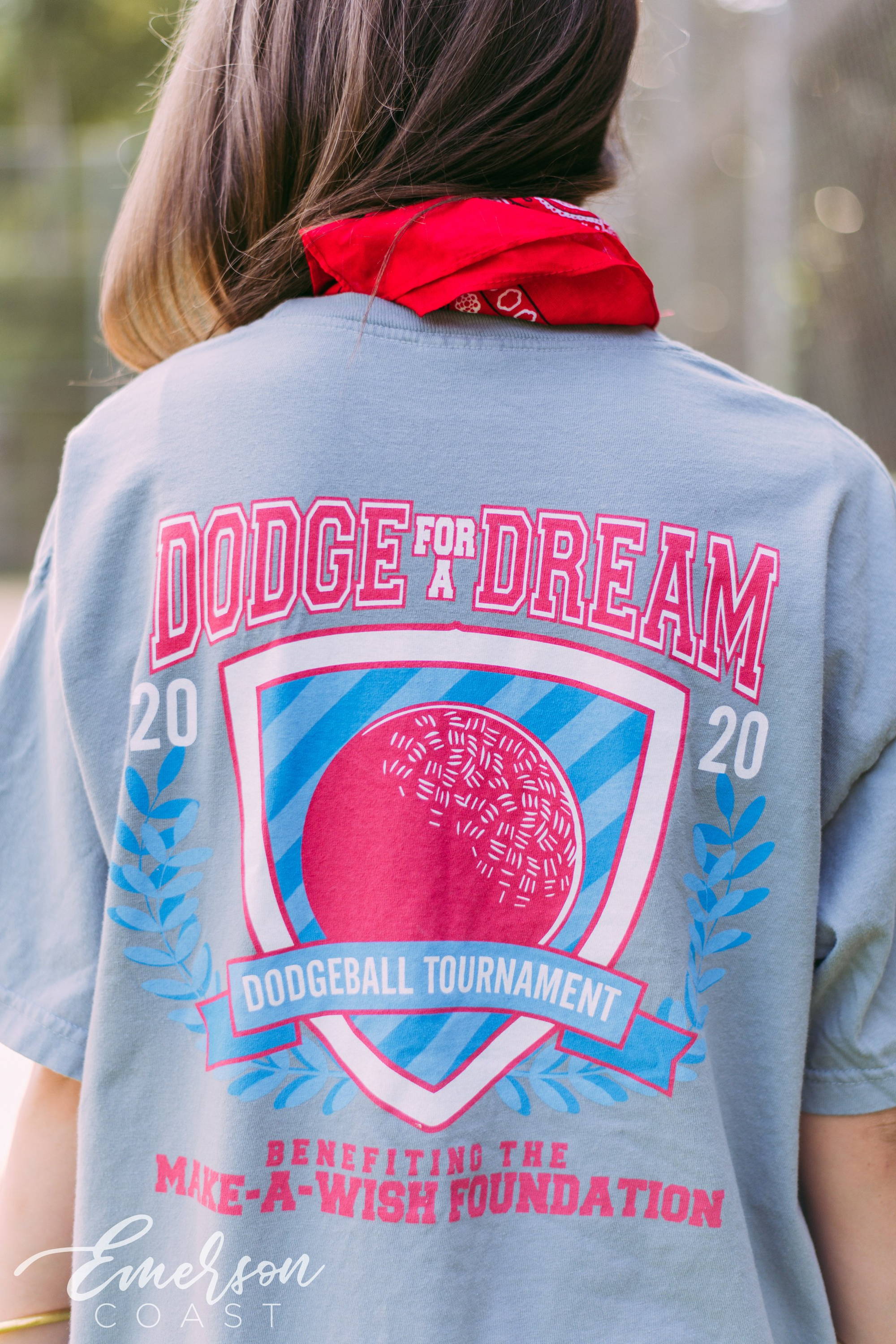 ---
The grass sure is greener with the Grass tee! This bright green tee is a unique color that will make a statement, no matter the design. It's extremely vibrant - a true emerald green. Grass grows in Spring, and that's when this tee looks best! Make a fun St. Patrick's Day tee with this tee, and keep the colors mellow and neutral. This could also work for Kappa Delta's Shamrock Week or Founders Day!
---
Like Granite, only darker! Grey is the classic grey choice, hence the simple name. It has a faded charcoal look to it, but is still light enough to let dark inks pop! This is anothe great option for Parent's Weekend, Homecoming, or a sports themed event. This is a great neutral that can easily be styled for Fall and Winter! Remember, just because it's a short sleeve doesn't mean it can't work all-year round ;)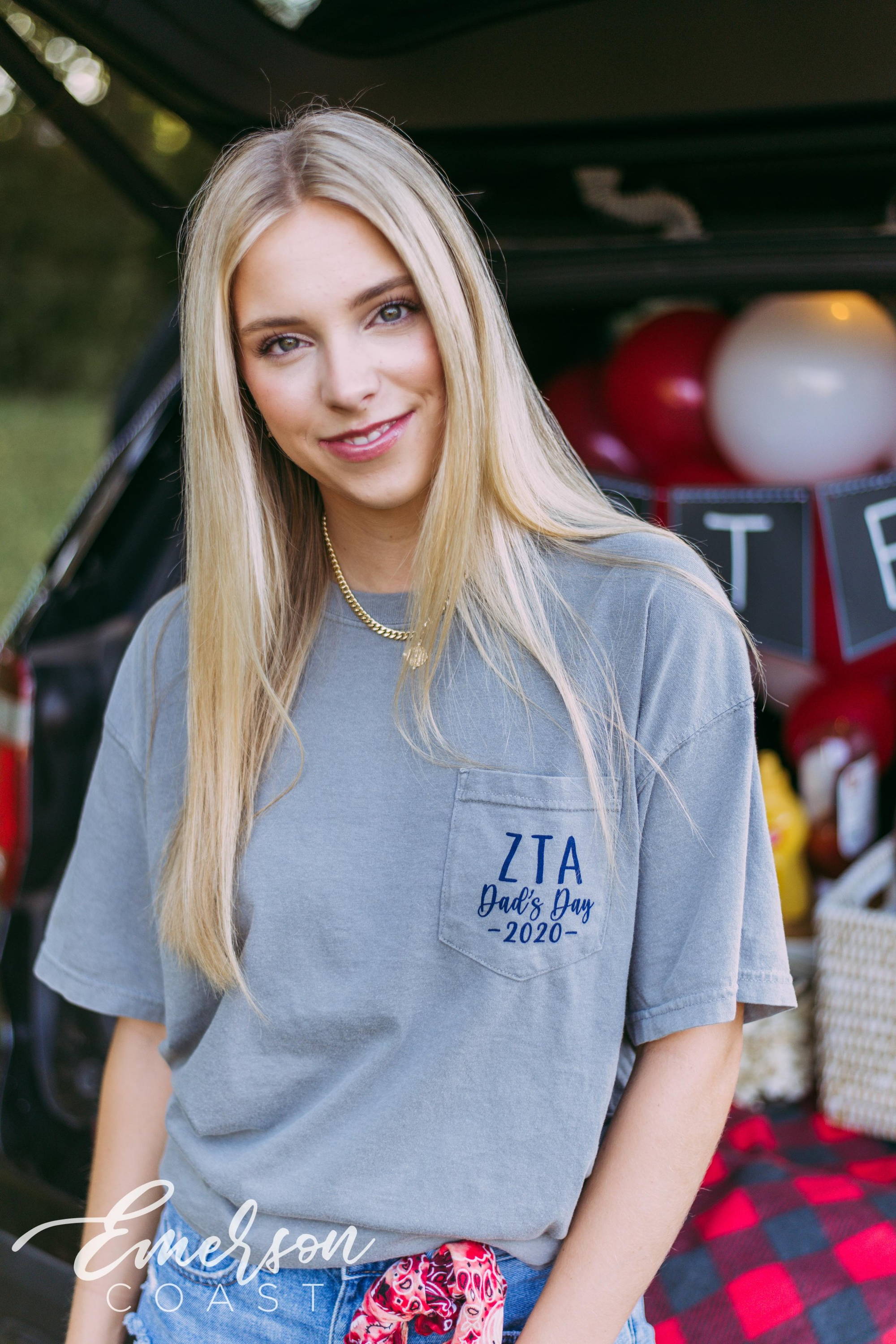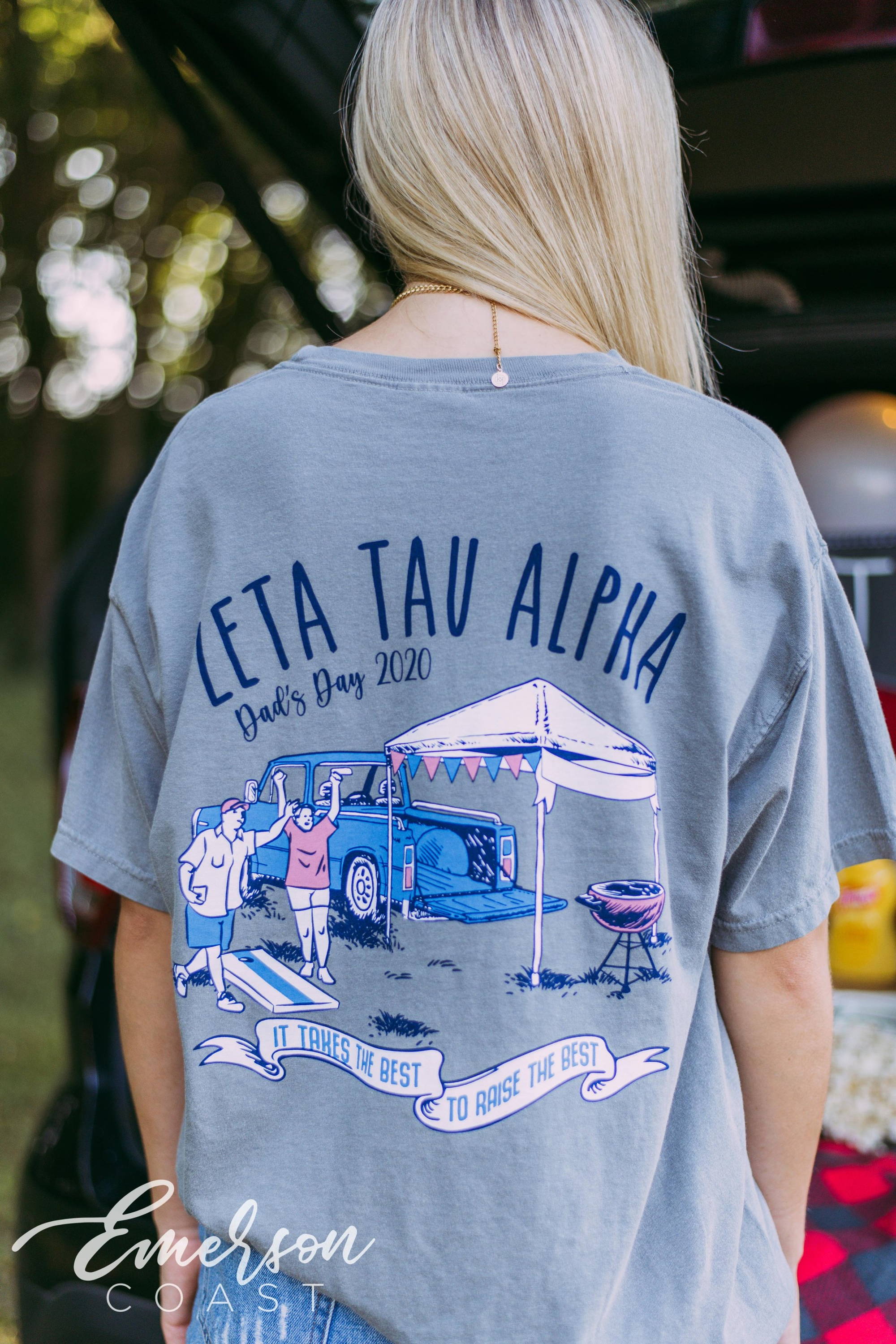 ---
You won't be feeling blue with the Ice Blue tee! This color is super unique and a great medium between blue and grey. It's a medium blue color, but with a grey stormy feel ... so stormy blue! It's a super unique color that will remain timeless and classic. Navy and white look incredible on this style, especially for Winter events. Ice Blue is also great for events paired with fraternities or for semi formals. Any detailed design will look bold and bright on this icy tee!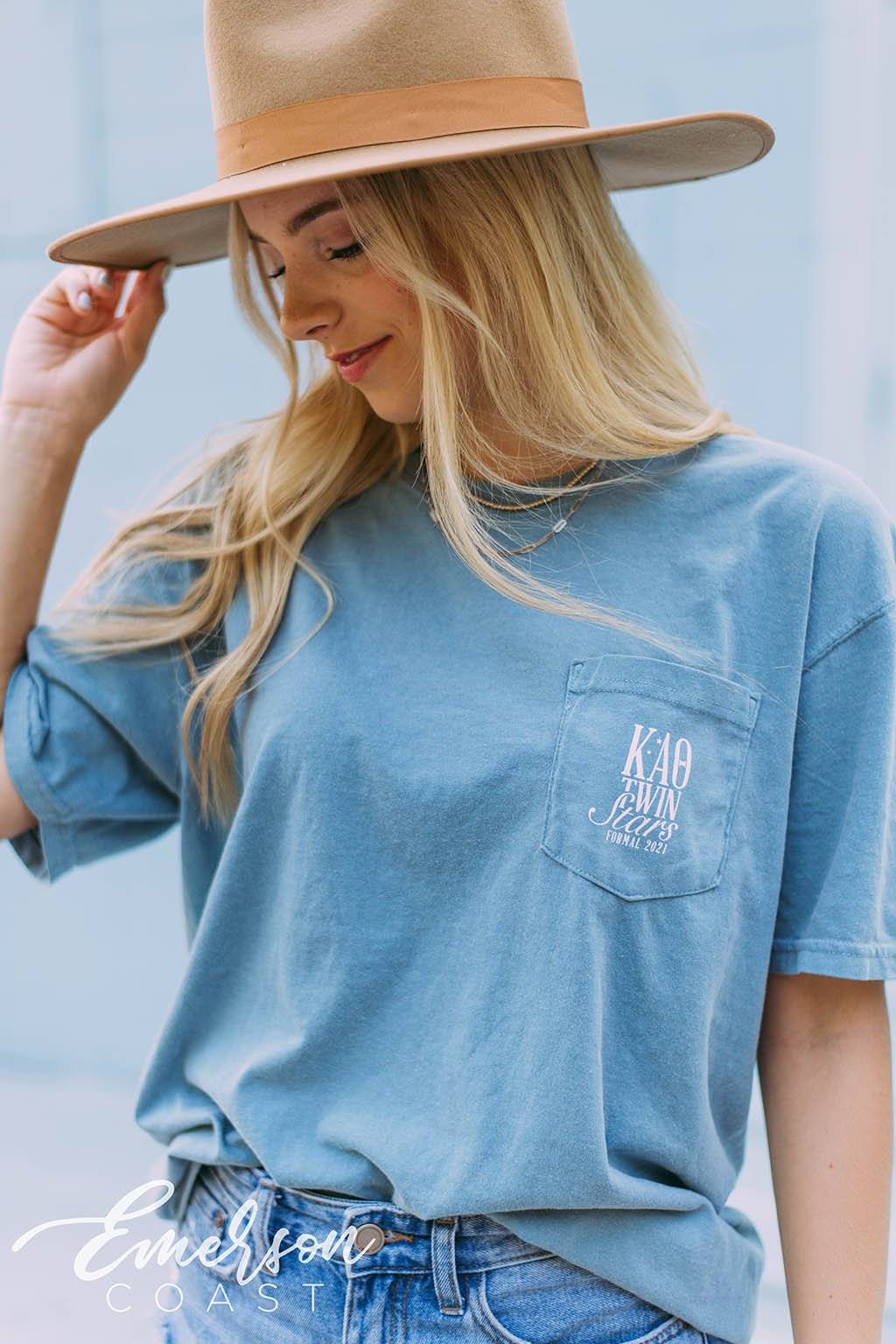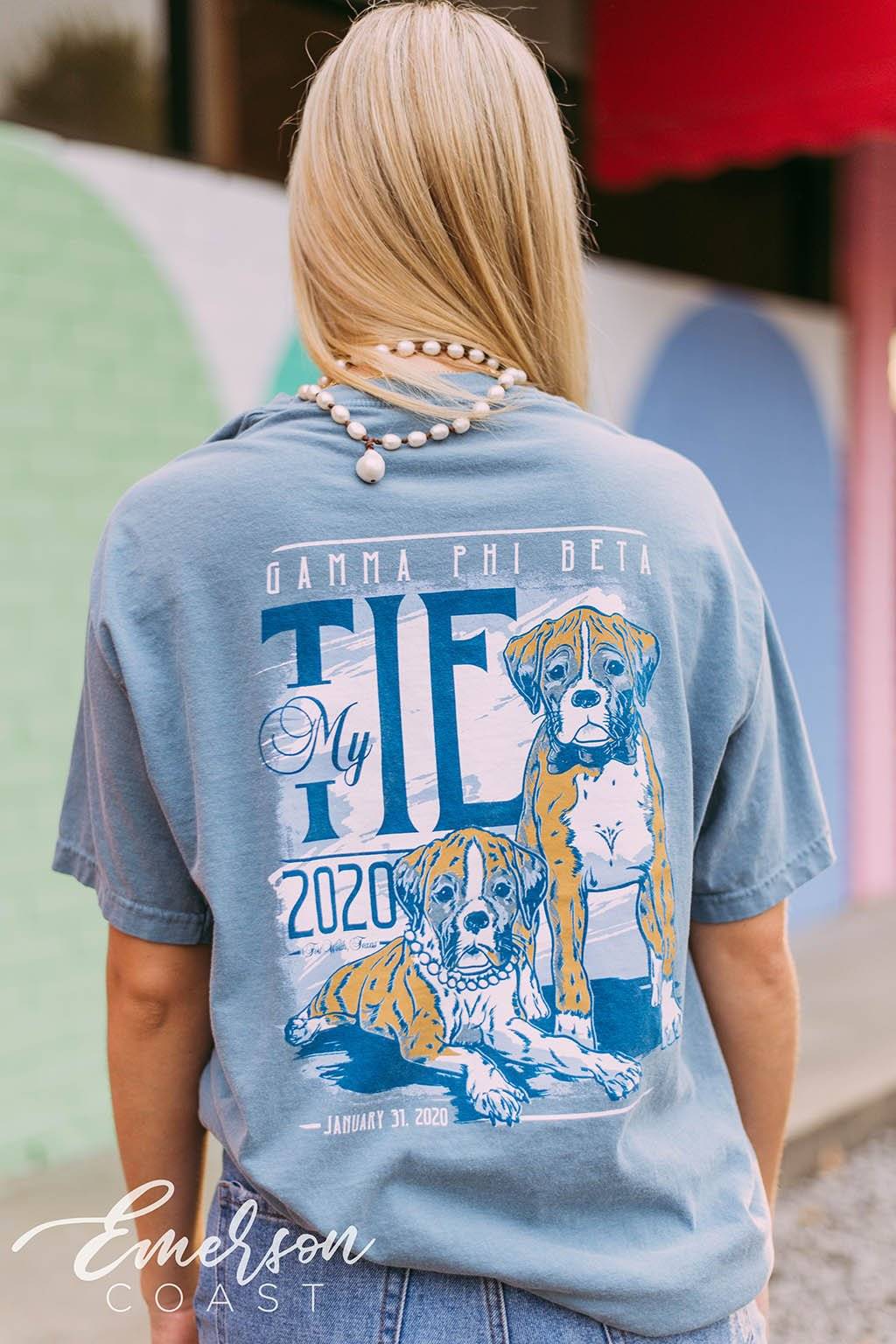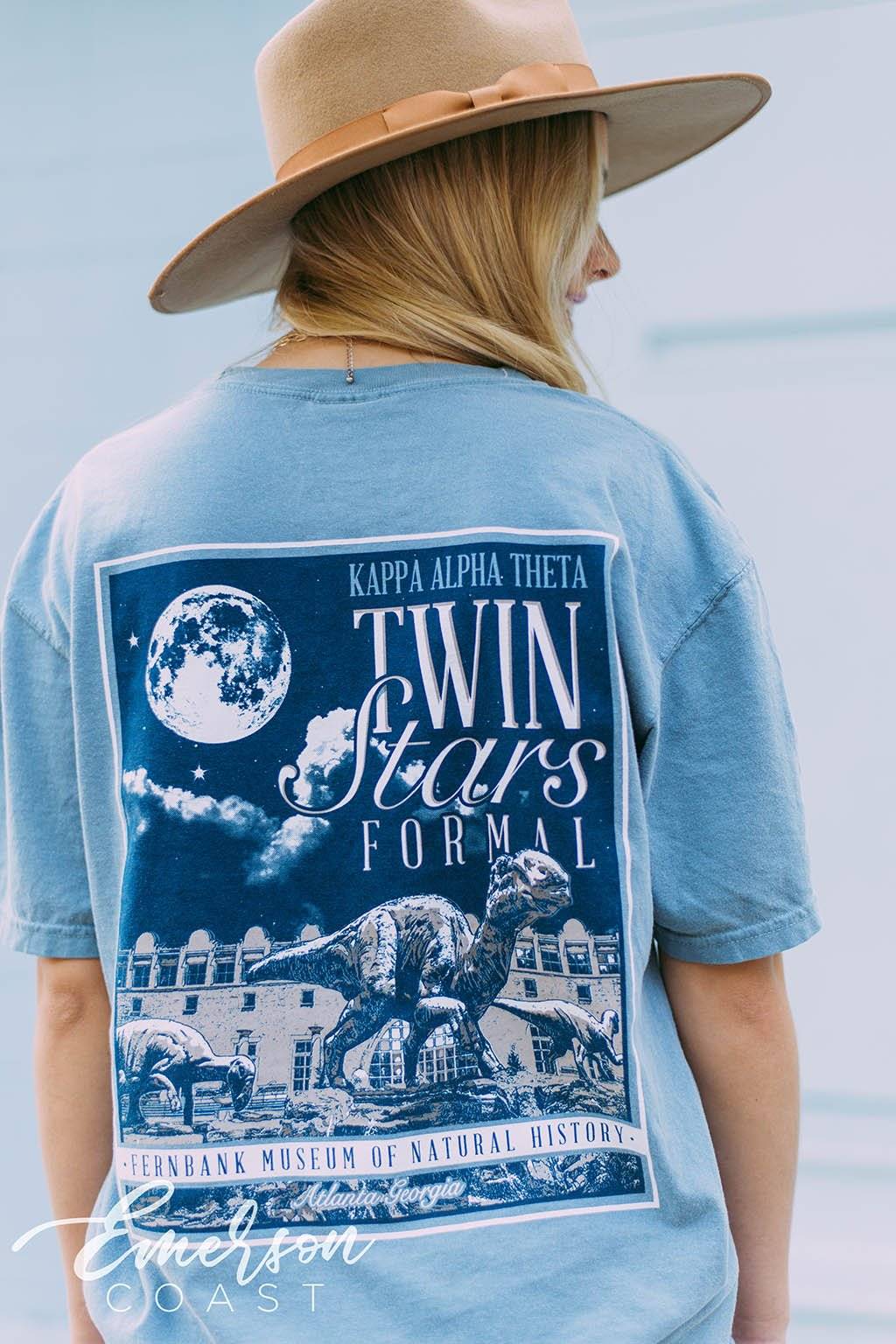 ---
Okay, now for a true classic - Ivory! Ivory is and will forever be a perfect choice for any design, no questions needed. This is a light cream color that is the perfect base for bright designs with a lot of details. It's not as stark as White, making it feel warmer and more natural. You can stick with natural vibe with browns, oranges, and reds for a Fall tee. Since this simple tee is so versatily, however, pastel pinks and blues can also make this a too cute Spring tee! When in doubt, go with Ivory!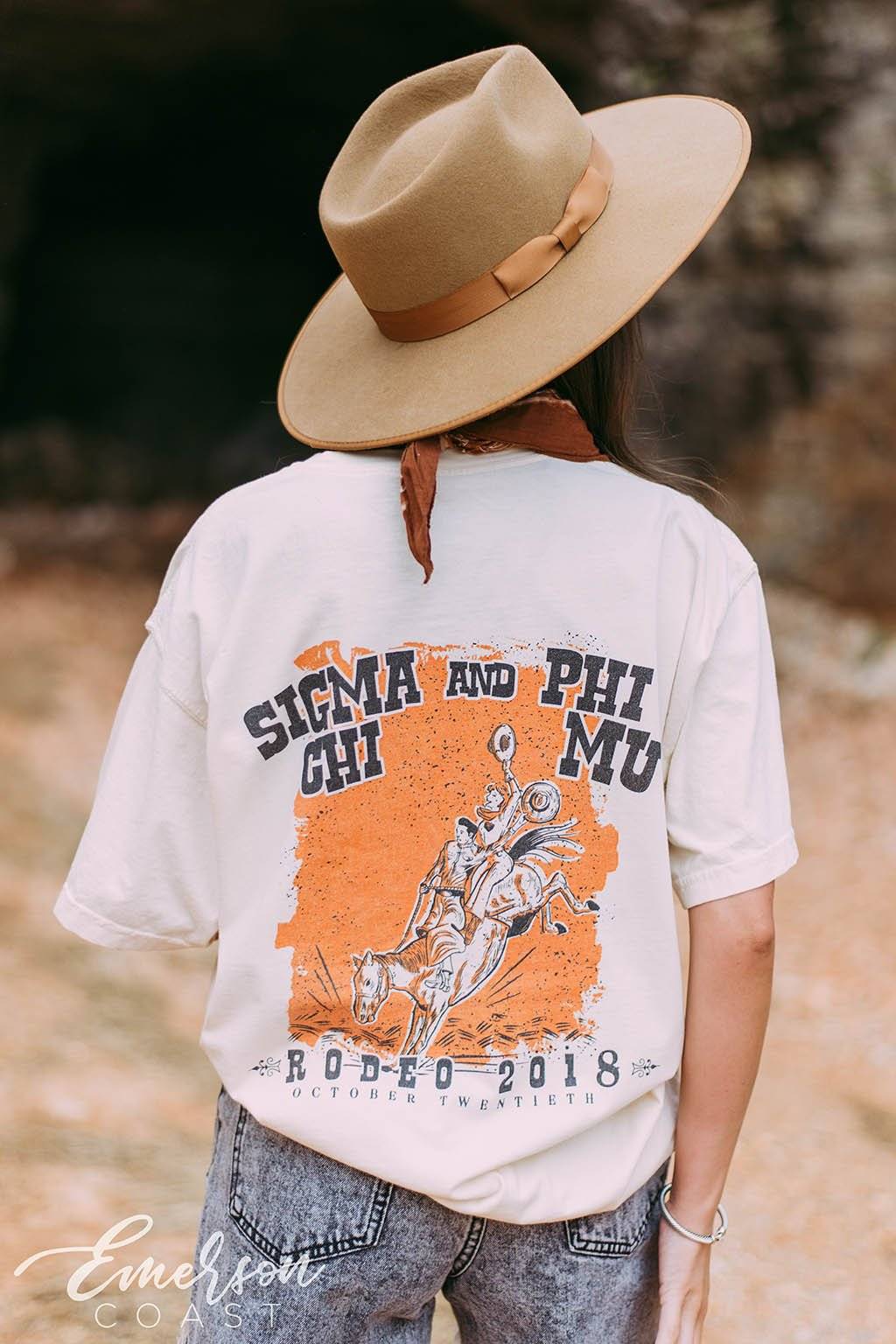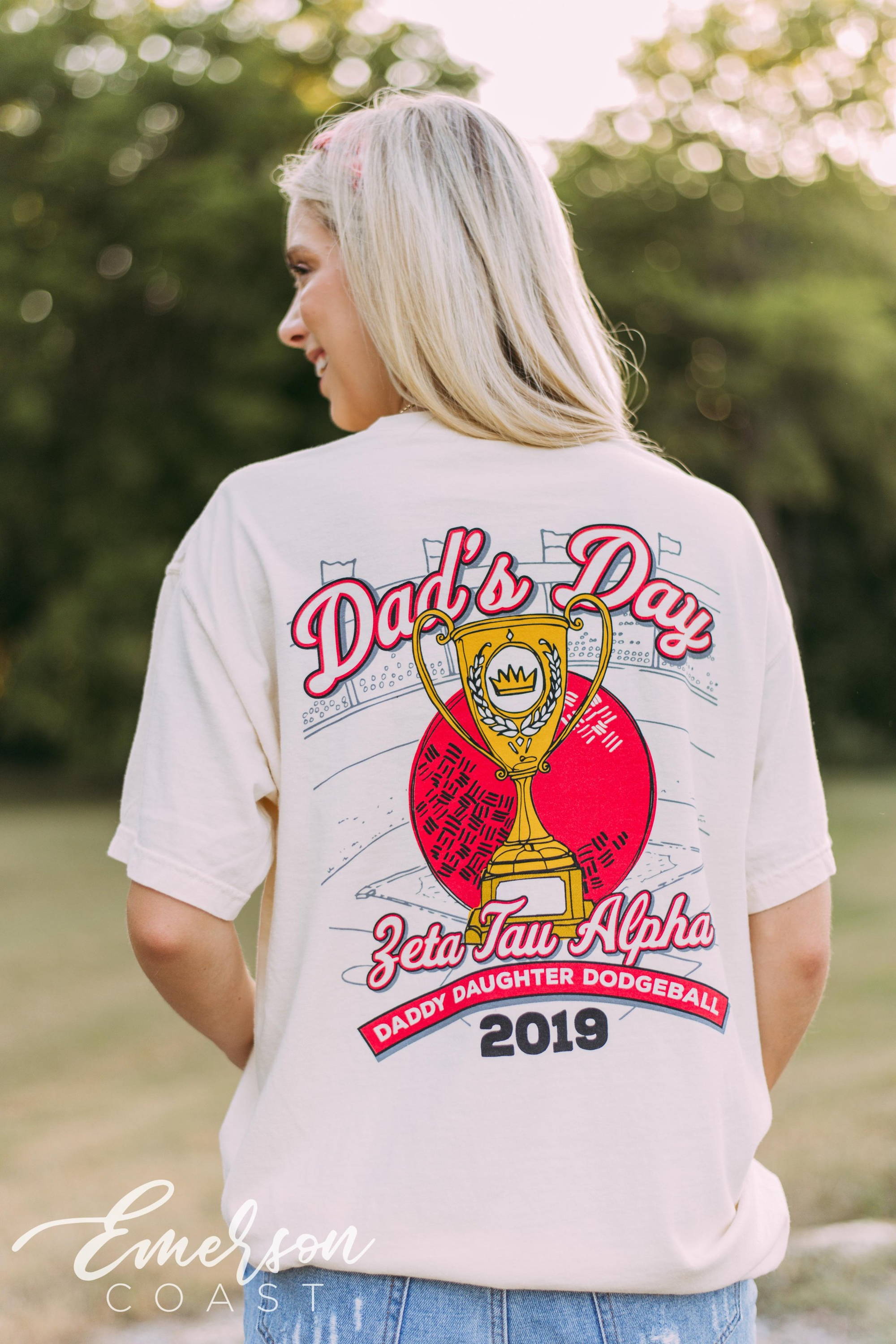 ---
Like Blue Spruce, but lighter. That's honestly the best way to describe it. Light Green is a true green, but is not really light, tbh. This is a emerald/forest green mix, and it's so pretty! This stormy tee is great for Fall designs, especially oones that have a nature or outdoors vibe. White, cream, and pastels look like they were made to be on this t-shirt. A Sisterhood Retreat, destination Formal, or themed date function are all great reasons to go with Light Green! This is another color that boys won't mind wearing, and is classic enough to not go out of style.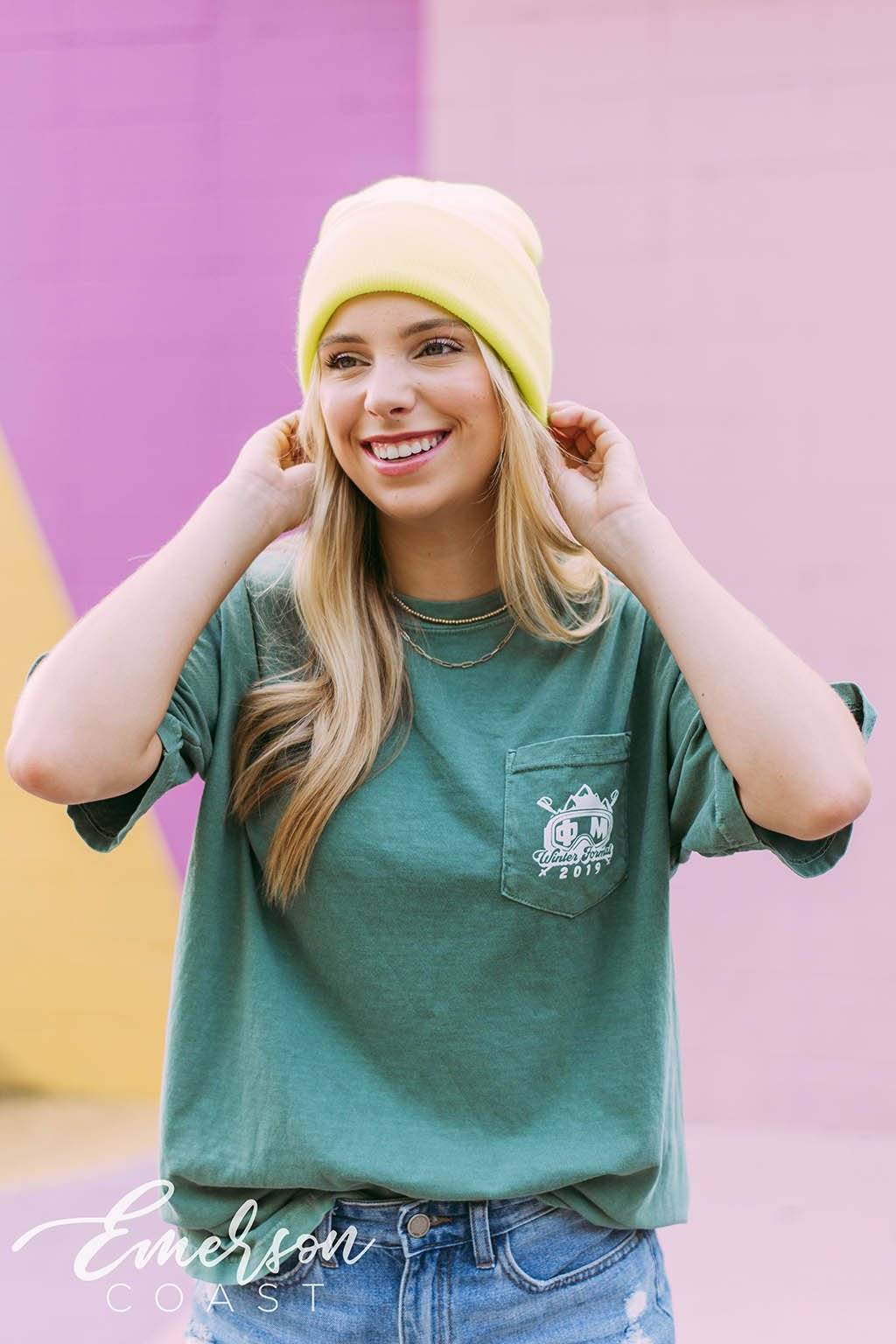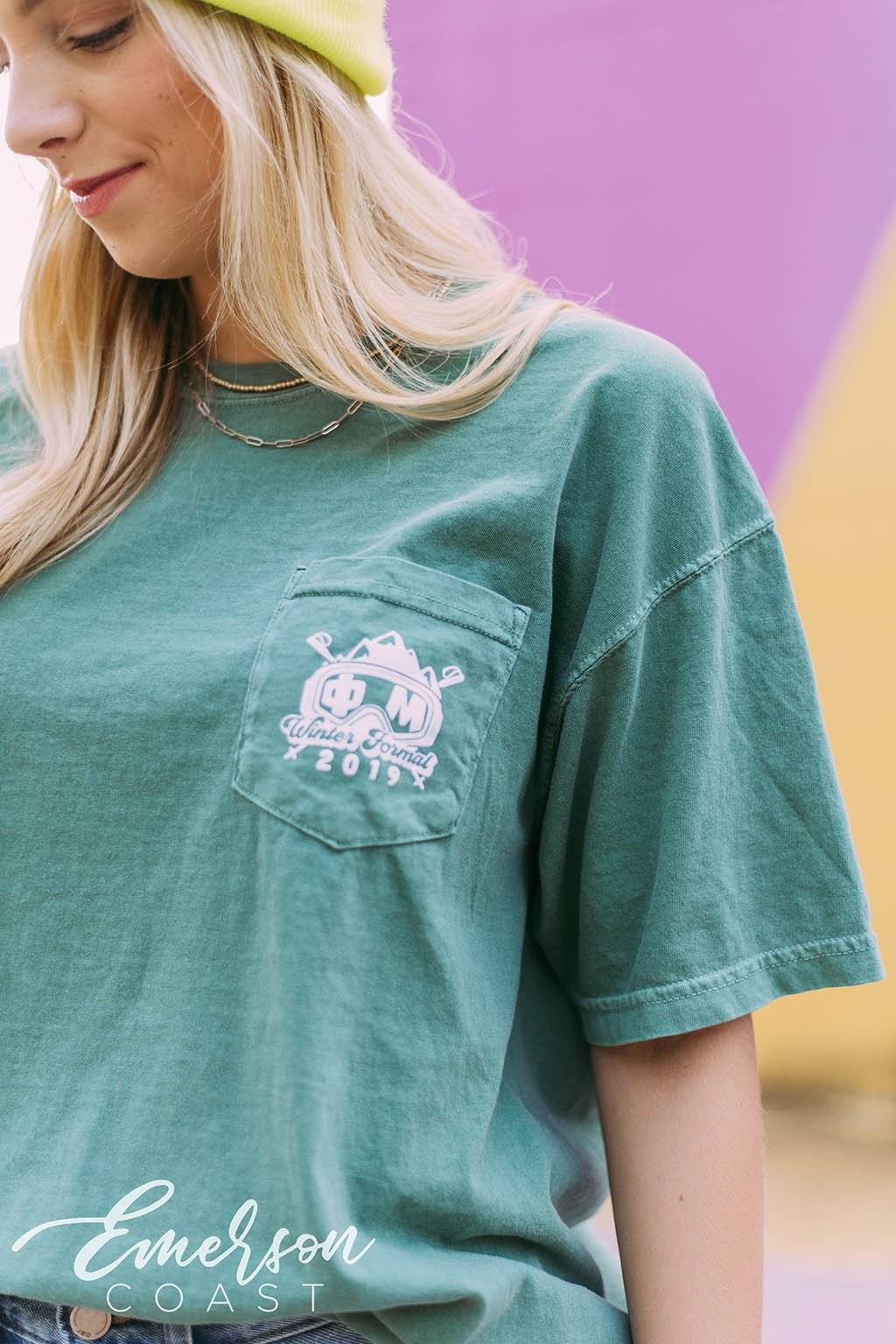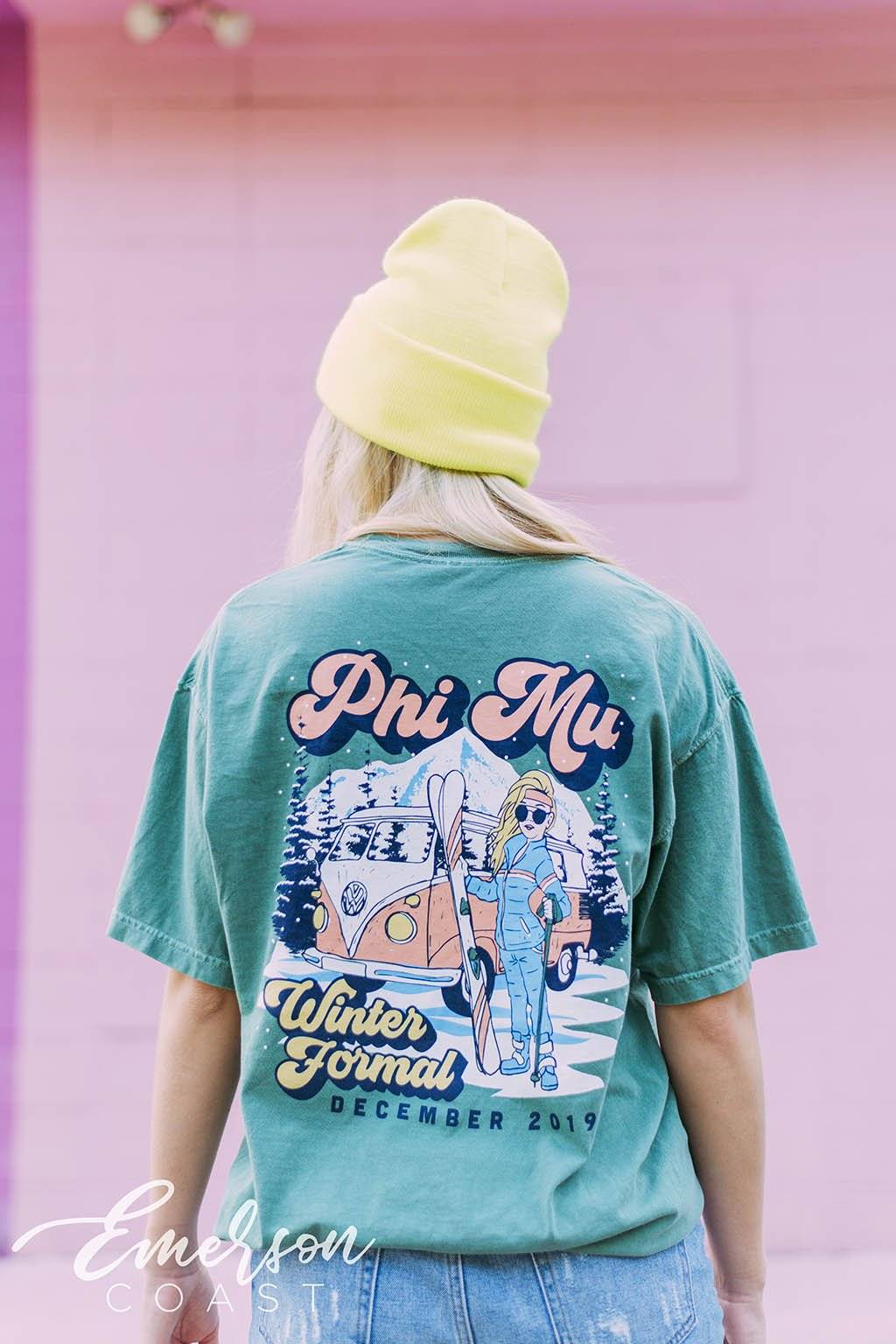 ---
Welcome to the dark side ... just kidding. But seriously, Pepper is a solid choice if you don't want to 100% commit to black. It is a deep charcoal tee - way darker than Grey or Granite. This nightfall tshirt is perfect for Fall designs, especially spooky ones. A Halloween themed function is practically begging for a Pepper tee - I mean, just imagine a cute little ghost popping against the dark fabric. Obsessed! This charcoal shirt is also good for date functions in the Winter! White is a great go-to for a tee this dark, as well as bright primary hues.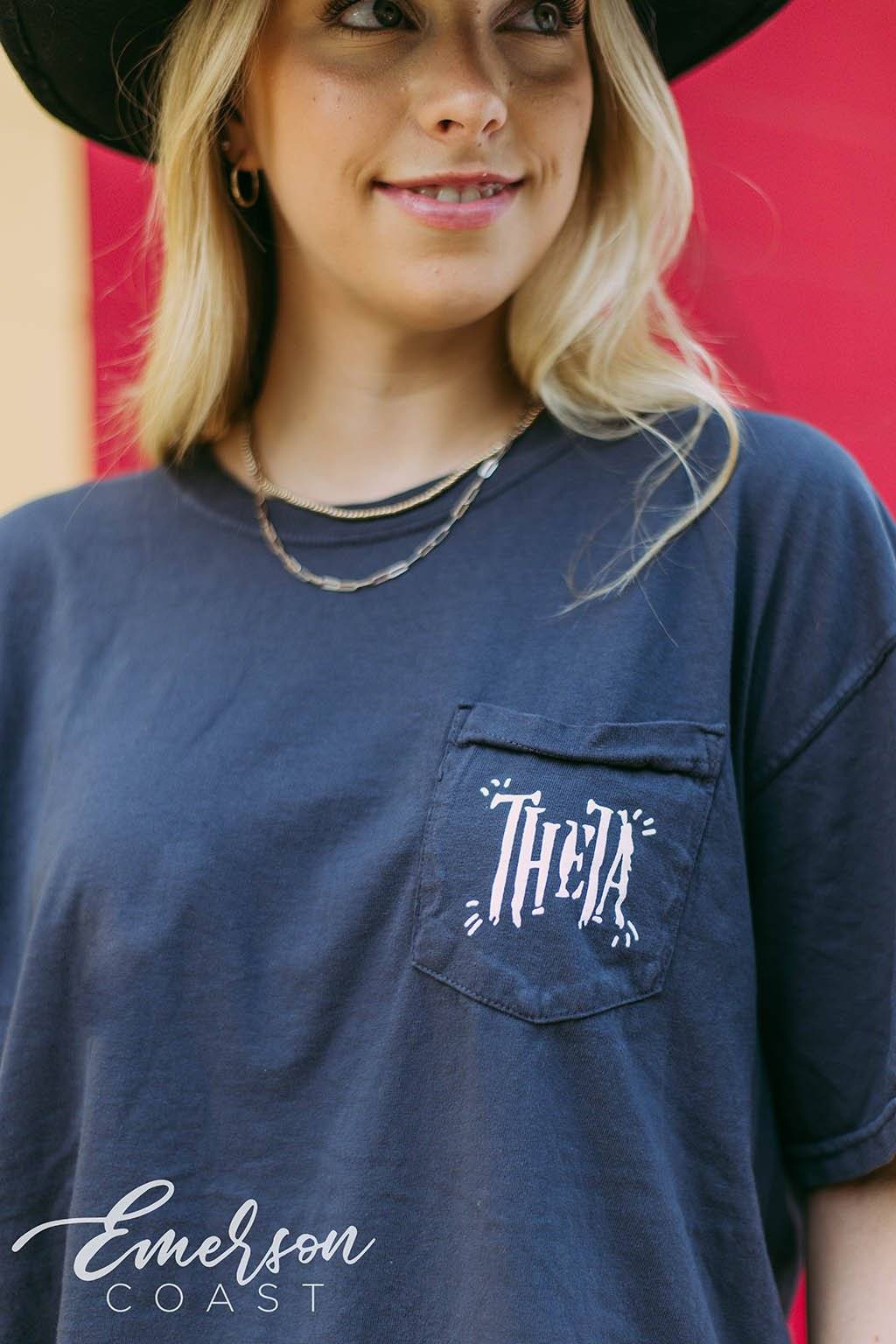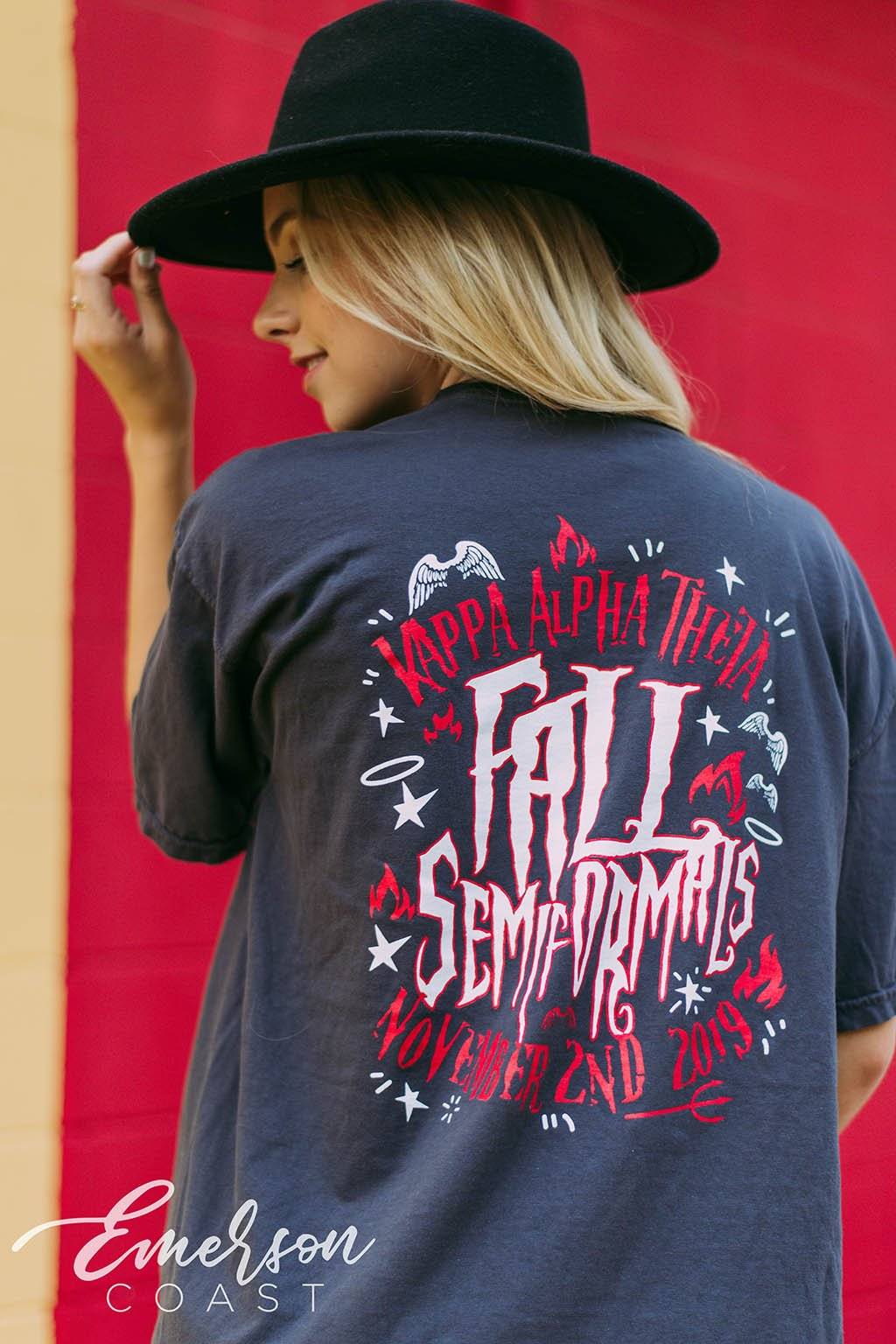 ---
Go back to beach vibes with Seafoam! This faded teal tshirt is a fun Spring tee that the whole chapter will "shore"ly love. Seafoam is more green than Chalky Mint, and way less bright. It is still a bold turquoise color, but without the neon look. Navy is a solid pair with this tee, whether as Greek letters on the front pocket or as a base for the back design. Can you "sea" this tee for a social or philanthropy event tee? I "shore" can!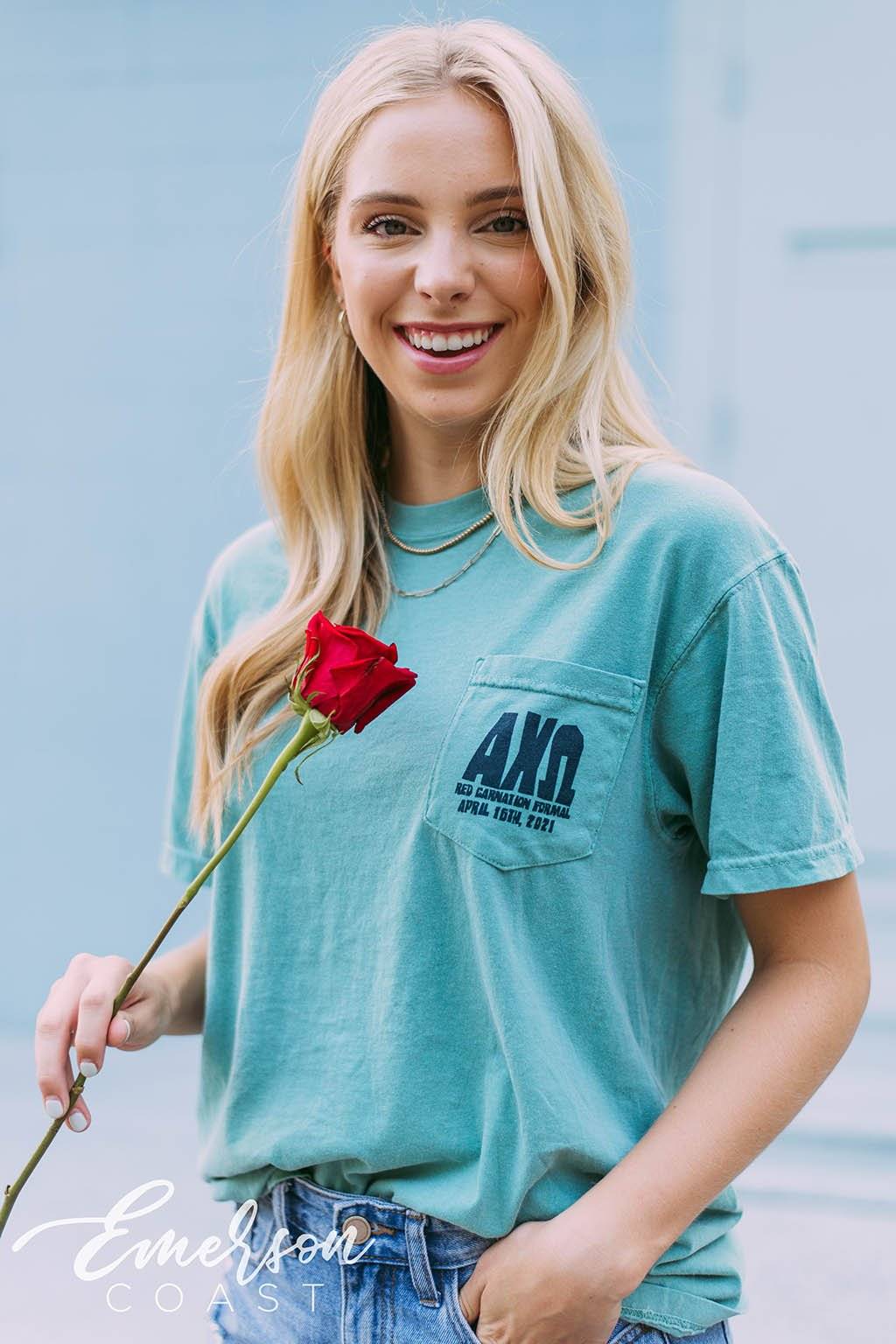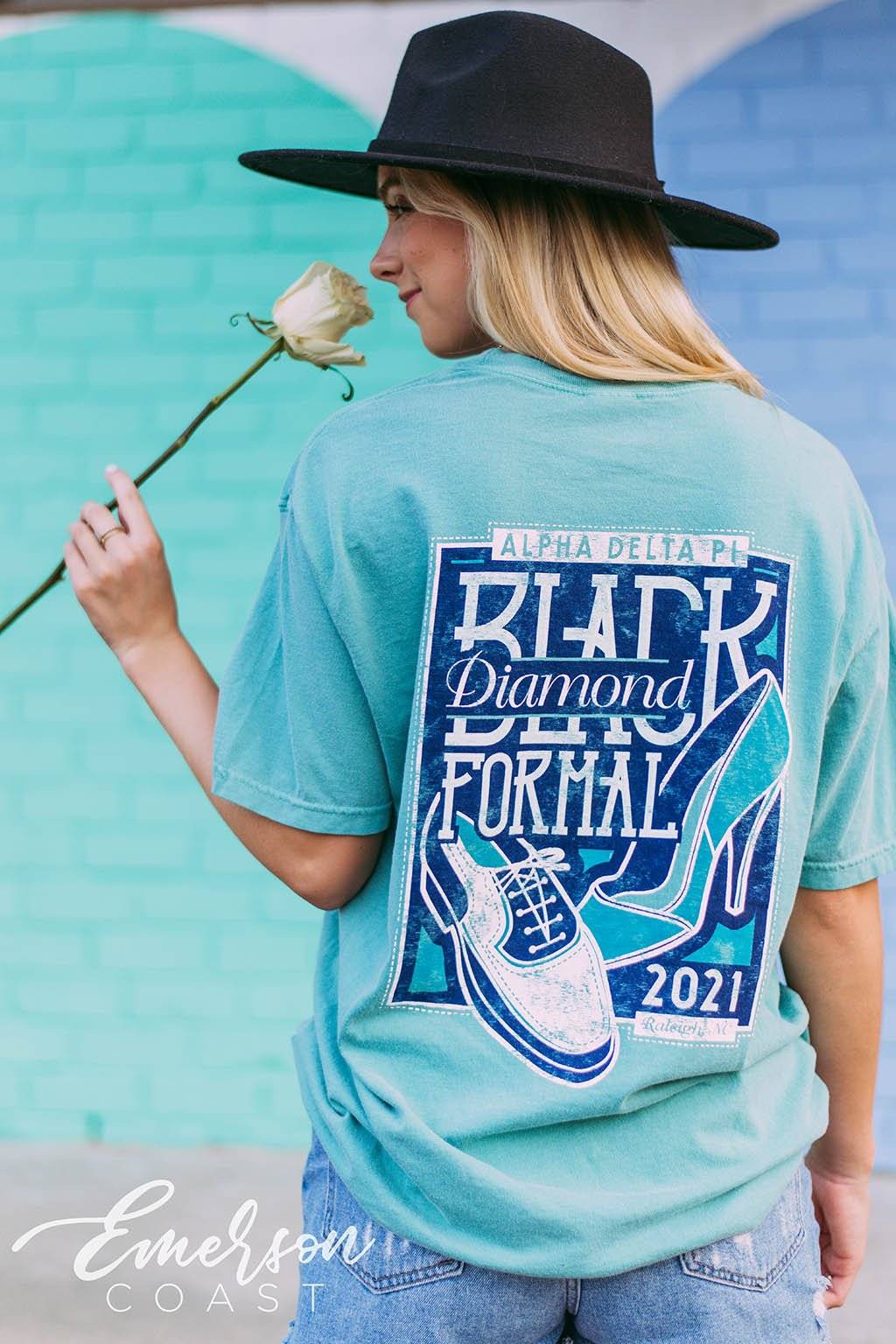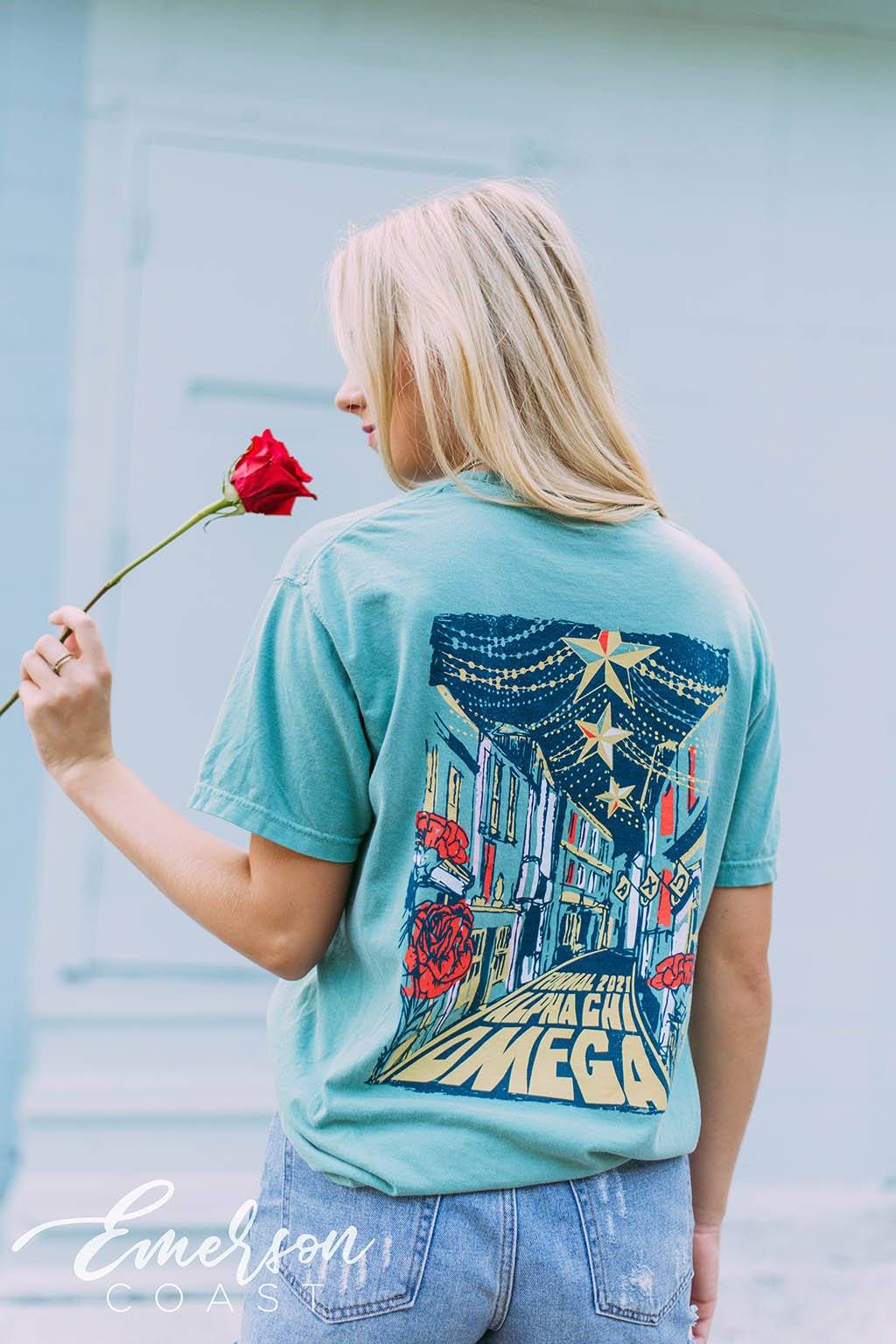 ---
It's true, it's navy, it's True Navy! This classic color is the perfect hue of dark blue that will look good on the whole chapter. Keep it simple with white, and add some snowflakes for a comfy Semi Formal tshirt. Bright colors also pop really well on True Navy, making the options literally endless. If one of your school colors is navy, this is a great option for Homecoming or Dad's Day PR! A detailed design of a football field or helmet will really pop on this classic style. Add a distressed effect to the design to really pull this look all together.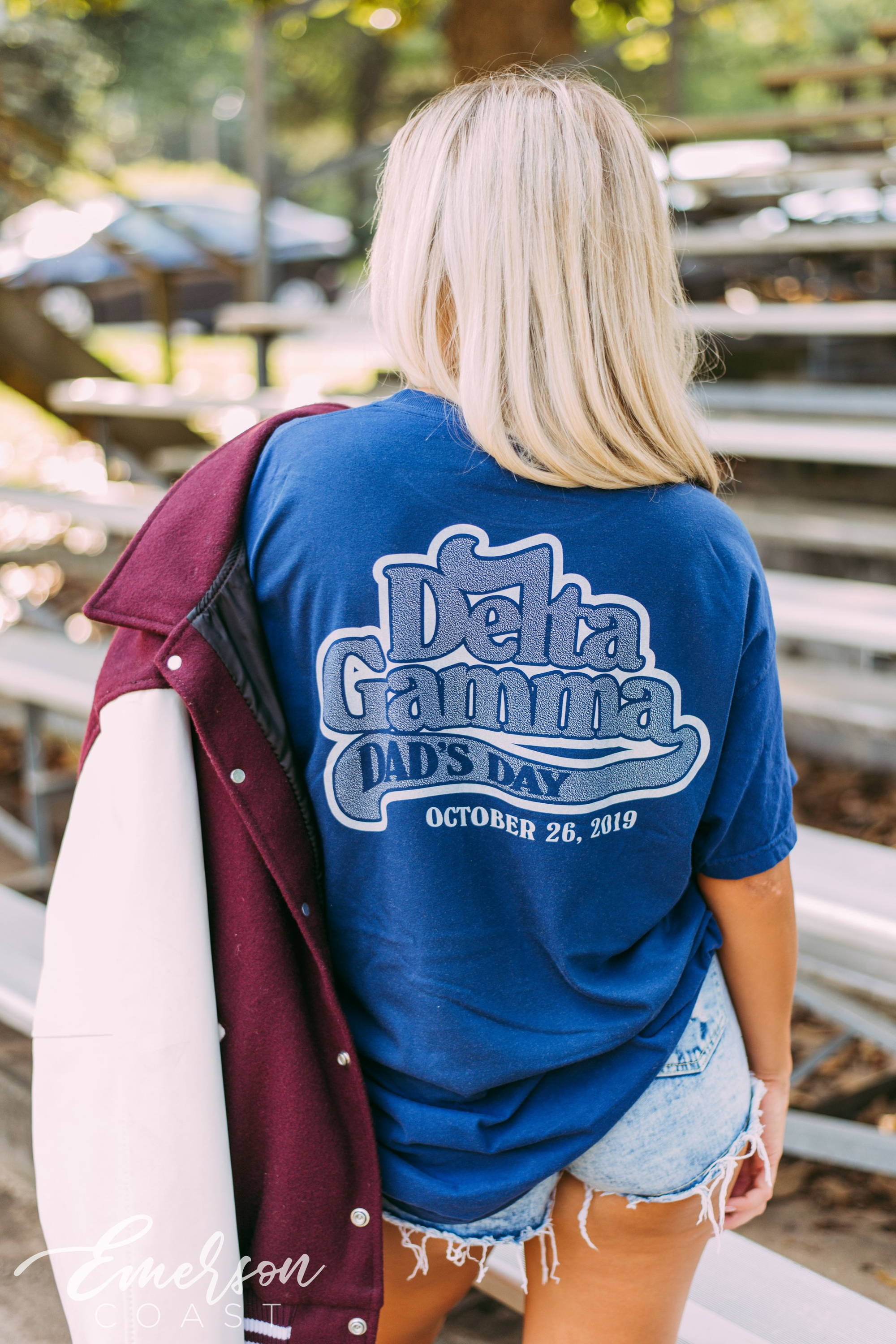 ---
Keep it sweet with Violet! This is a super cute option for Spring events, especially Mom's Day or a philanthropy event. Bright florals on the back will really shine on this light purple tee. Keep it 100% girly with pink accents, or go more neutral with navy, green, and white. This is a great option for a sisterhood tee for Sigma Kappa, D Phi E, and any other sorority that loves purple! This tee is a good medium purple color; not super bright but not pastel either.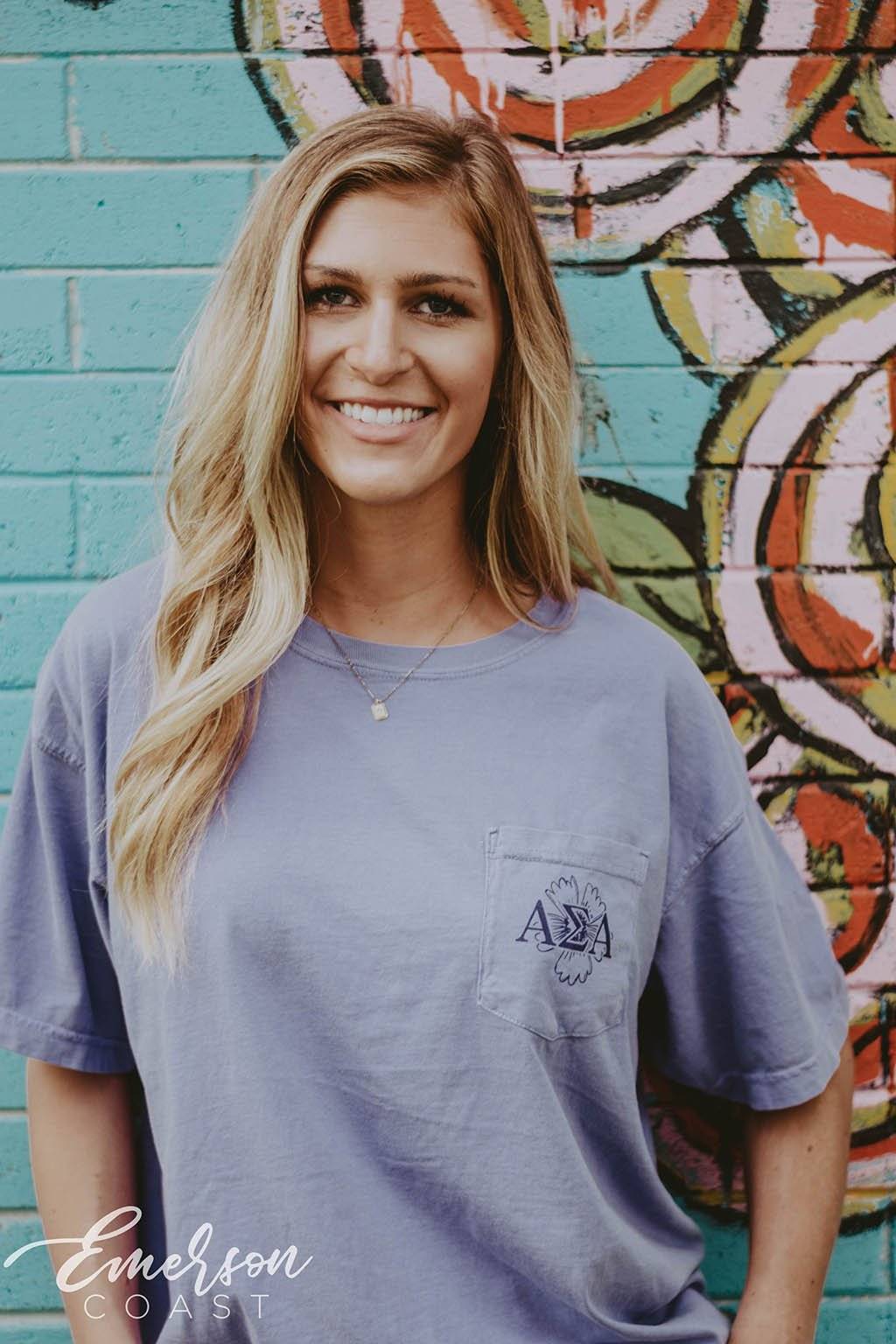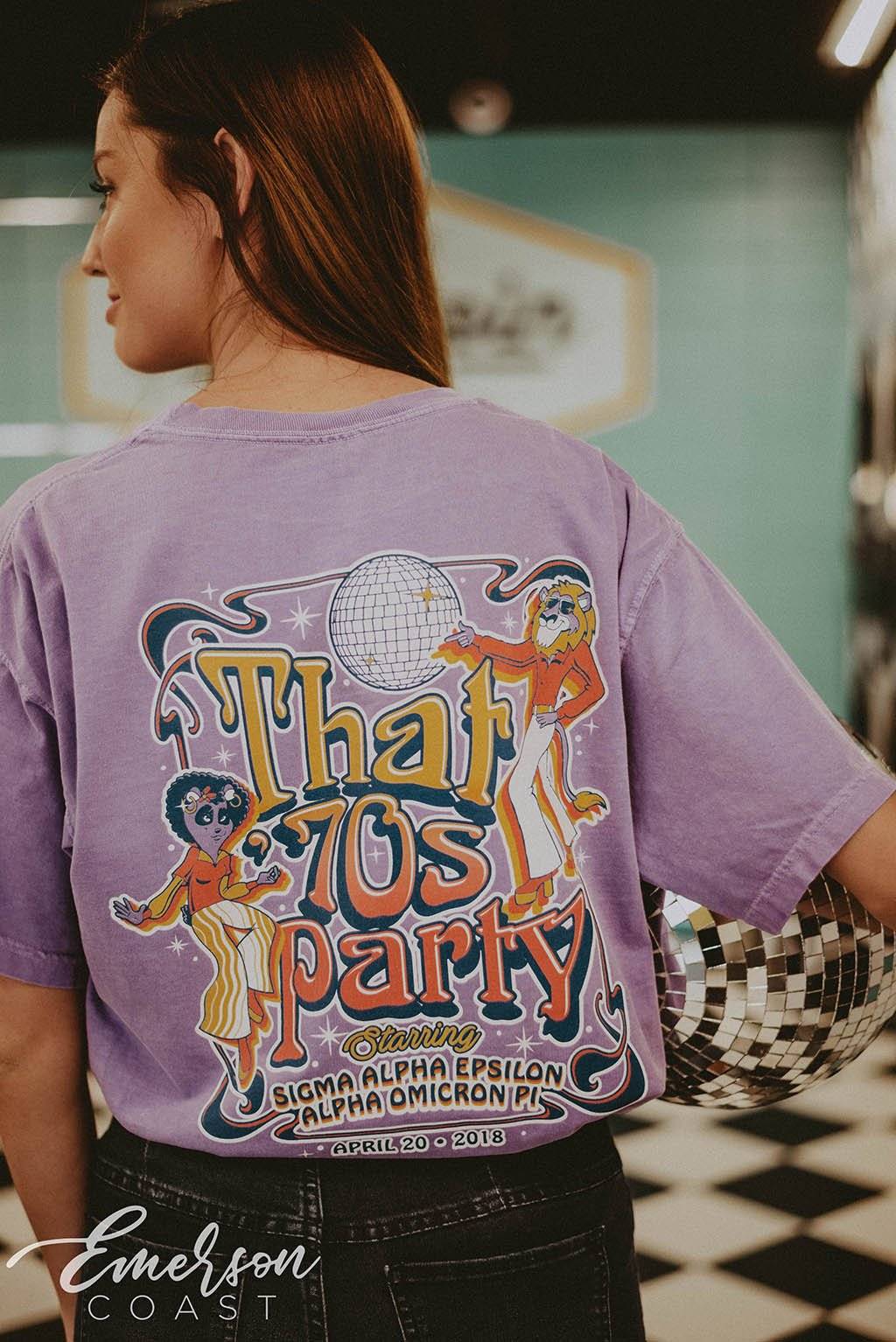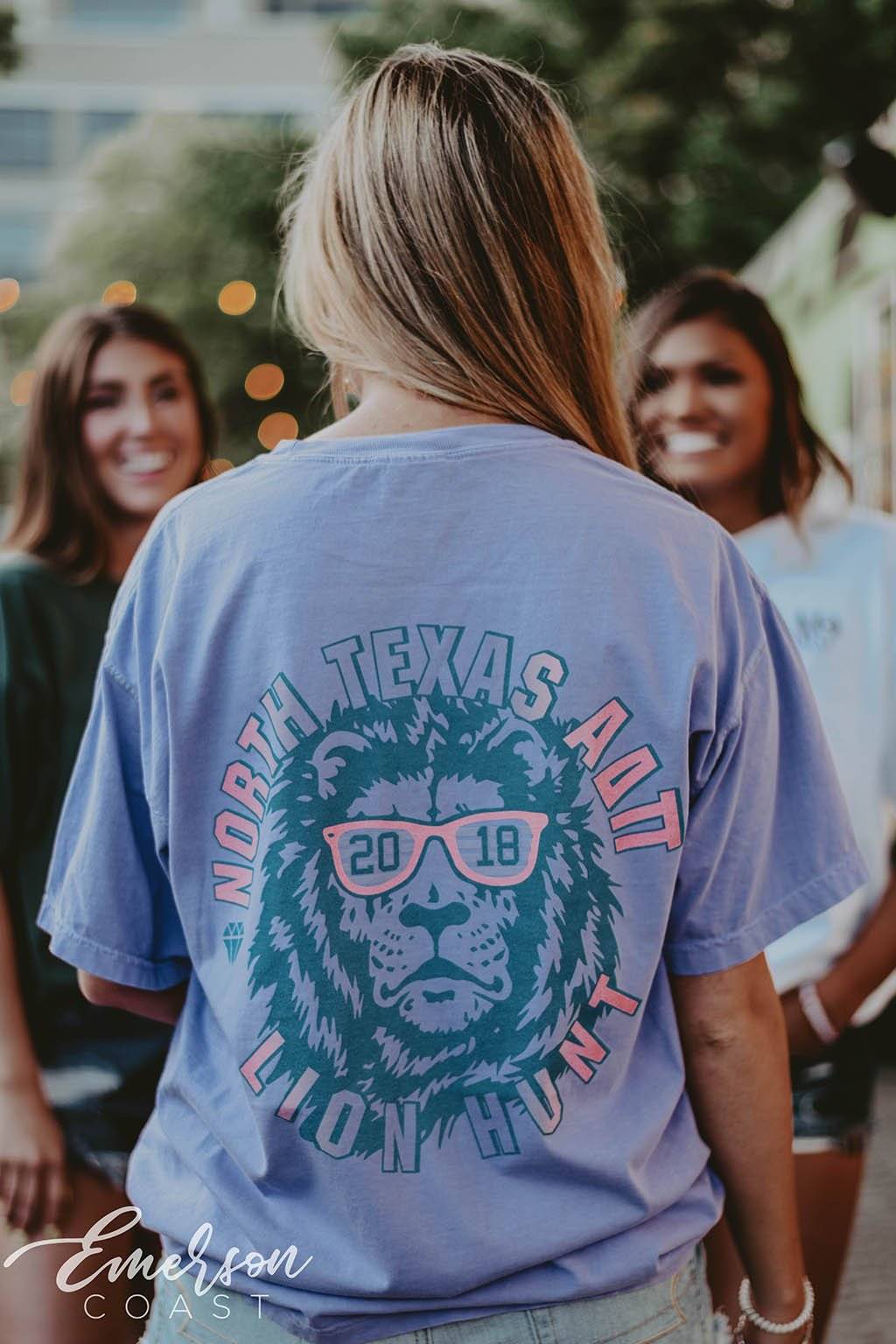 ---
Take the clouds away from Ice Blue and what do you have? Washed Denim! This medium blue color has a faded look, like it's been washed ;) It's not super bright like a true blue, but it's still vibrant and fun. This tee can work for Winter or Spring ... depending on the design colors! Stick with white and navy for an icy Semi Formal or date party look. This color can handle some color, though, so make it shine for Spring with bright colors and a detailed back design! You can also stay true to the shirt name, Washed Denim, and a have a jarty! All the shades of blue, fun patch designs, and a funky font will make this tee scream "Jean Party!"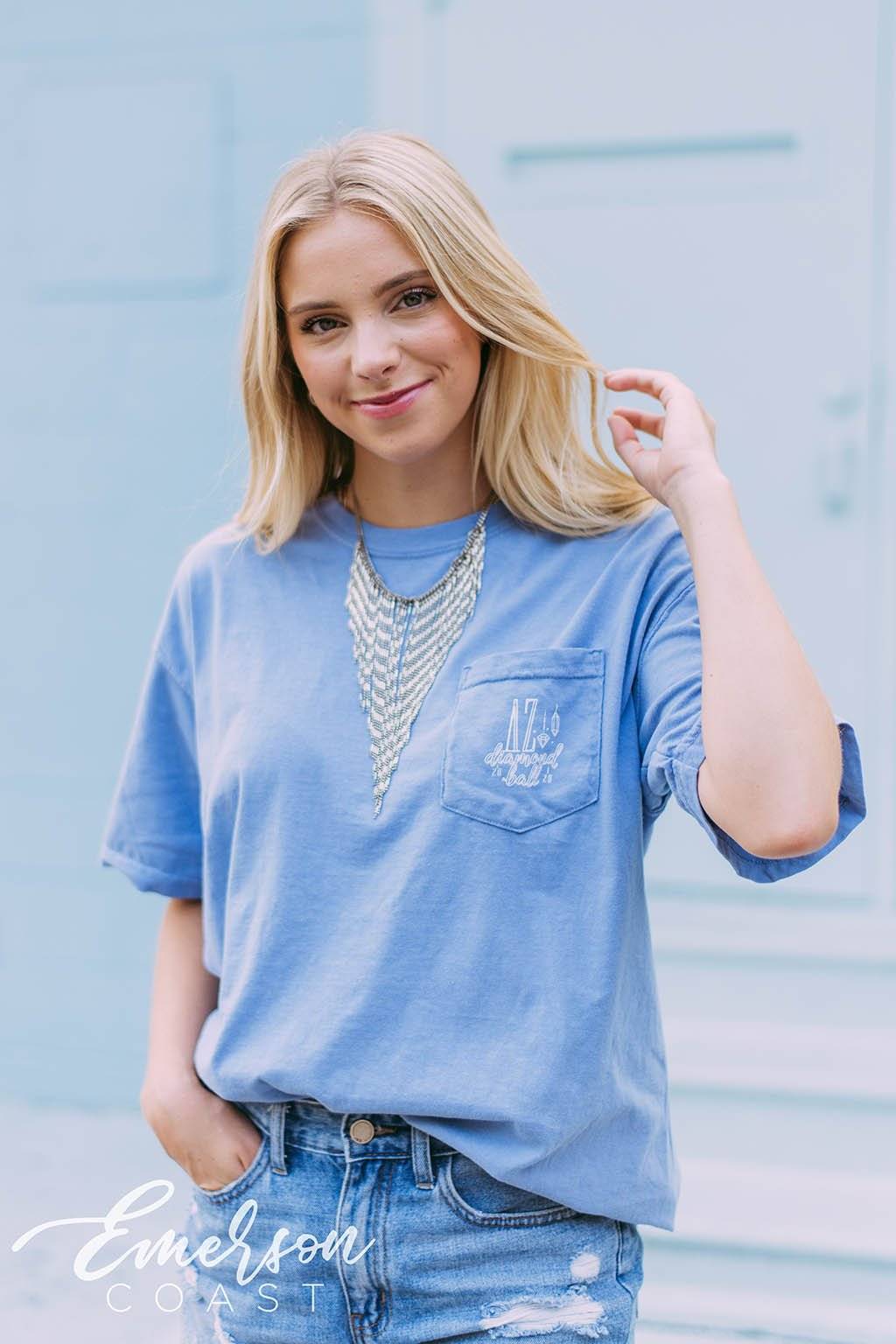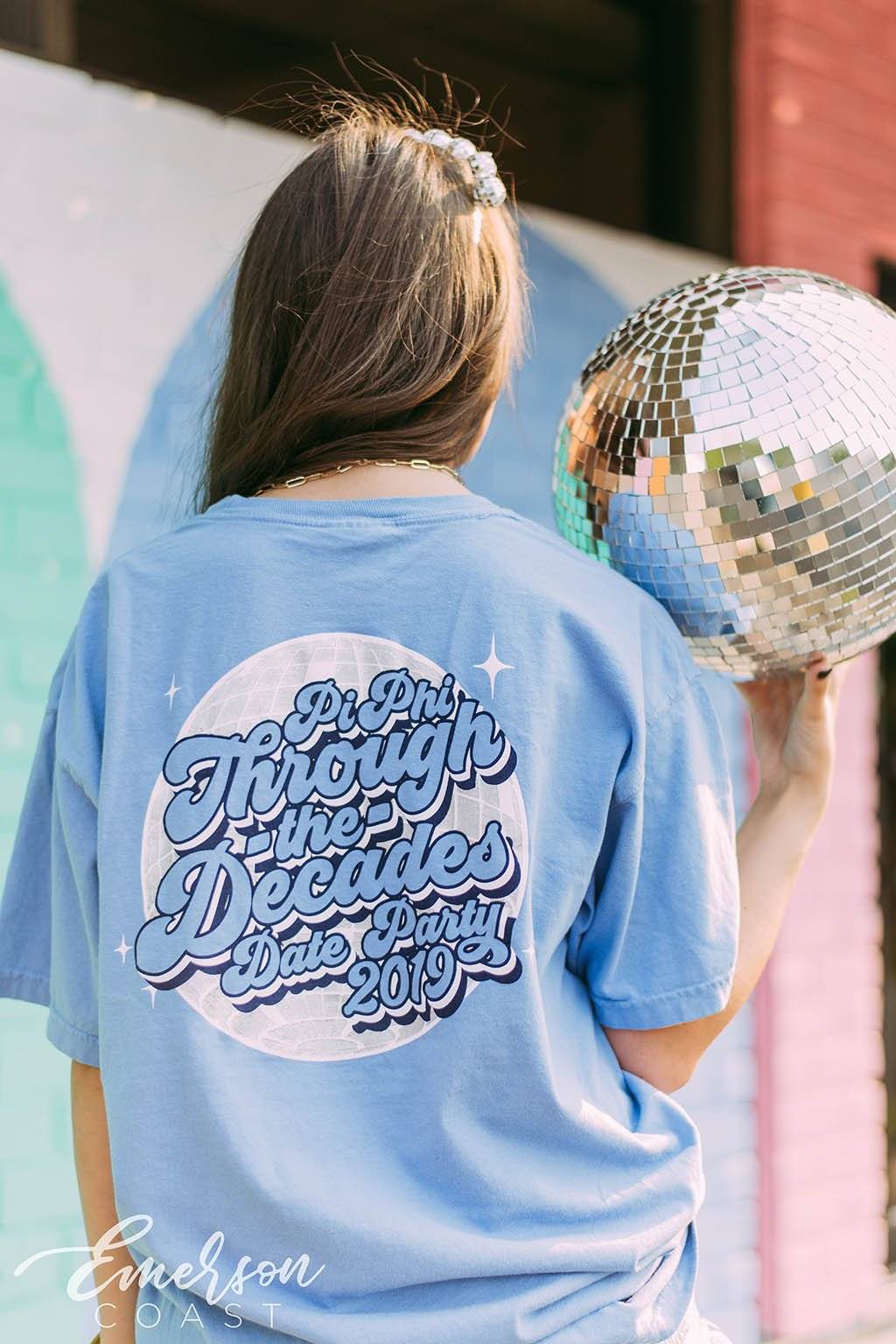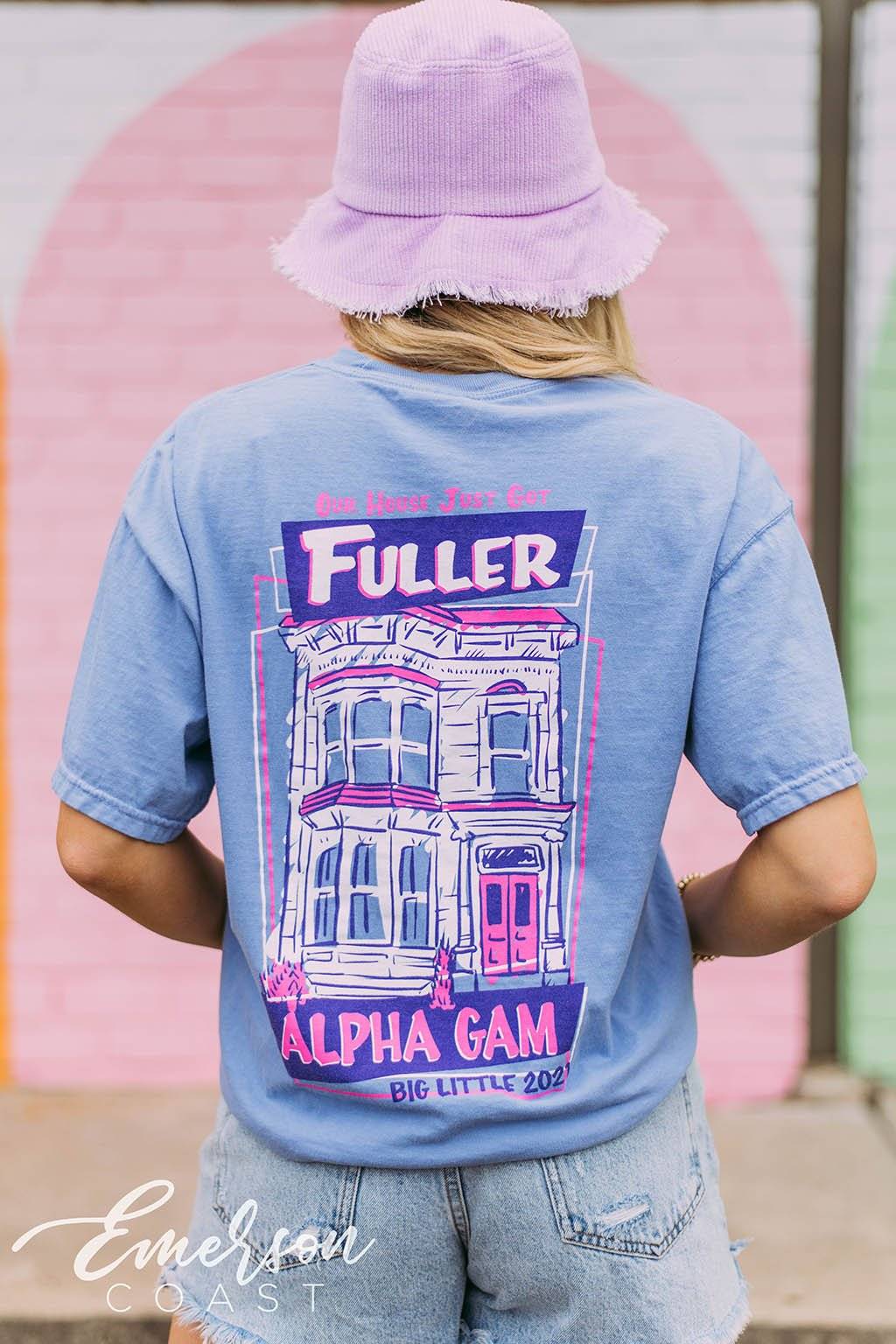 ---
Finally, saving (possibly) the best for last, Watermelon! Watermelon is another color that you can't help but smile when you see it. This neon pink/orange tshirt is great for Spring or Summer PR! It literally looks like the inside of a watermelon, but brighter. With a bold color like this, though, you need a bold design to follow suit! Co crazy with bright colors, fun fonts, and unique themes! This is also a great choice for a vibrant 80s style, if you want to have a decades date party or throwback sisterhood!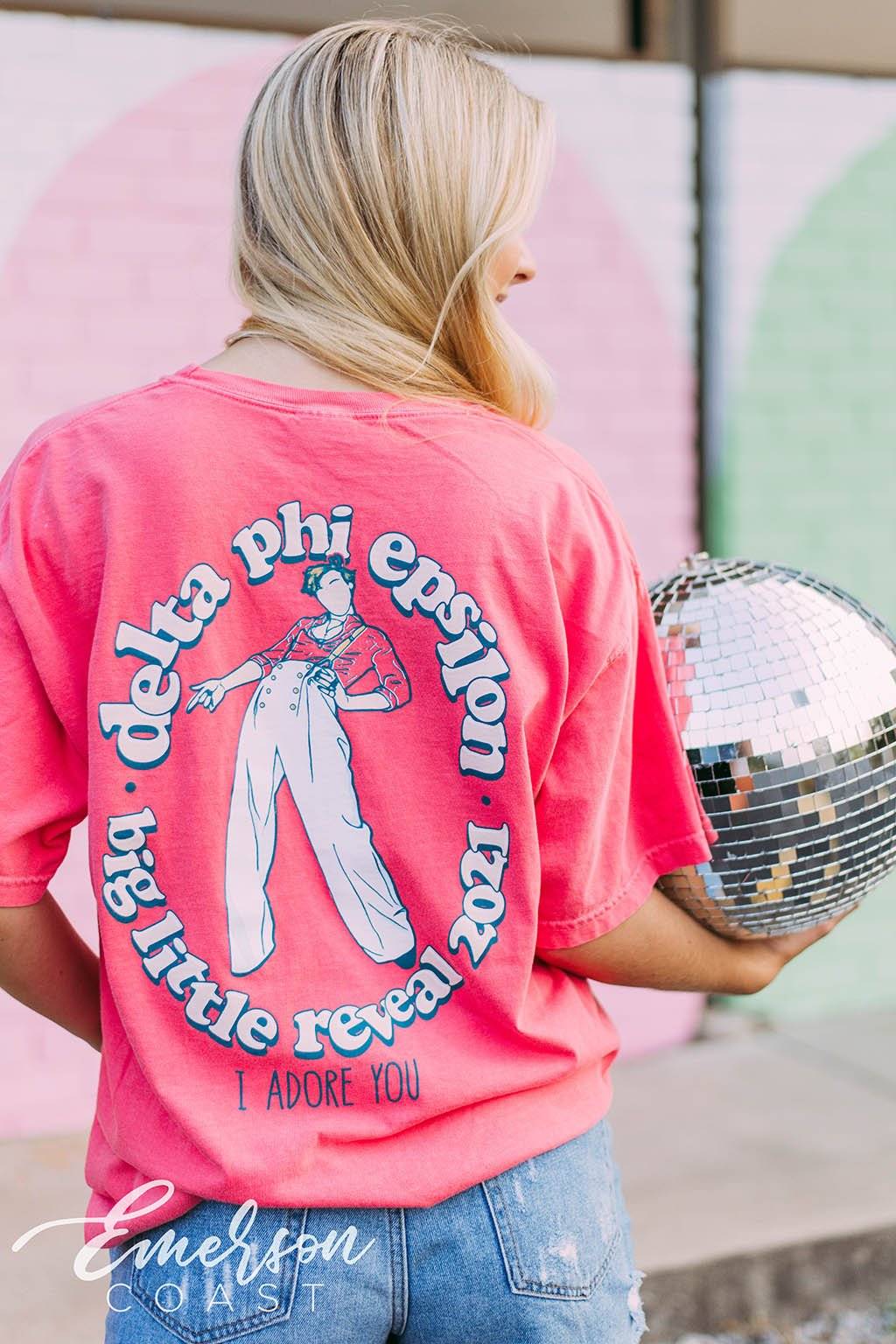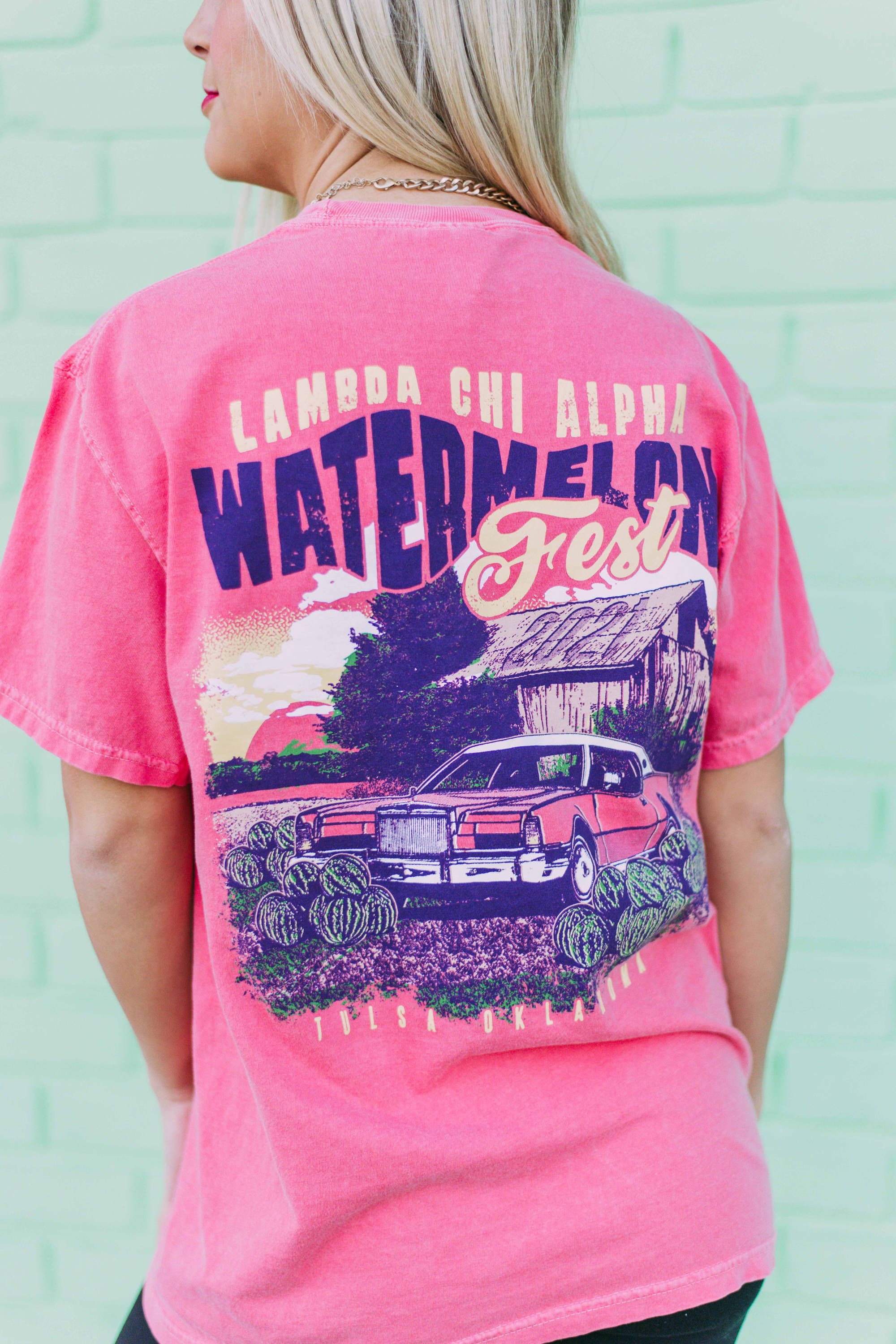 ---
Want to keep it simple? You can't get more basic that the No Pocket Short Sleeve! This style is a great base for any design, whether it's just on the front or both sides. It has the same soft fabric and oversized fit as the pocket tee, just without the pocket! It's guaranteed to be a fan fav, because who doesn't love Comfort Colors? It's in the name - they're comfortable!
White - if it ain't broke, right? The white short sleeve is a great basic for designs all throughout the year. White will make any design color pop, so don't worry about a detail not showing up enough! For Spring, go for bright colors and florals to make this simple tee shine. For Fall, go dark! School colors are a great choice for Homecoming PR or a Parent's Weekend that falls on a gameday. You can also do a fun First Day of Class design across the front, letting your whole chapter rep their letters around campus.
This is also a great style for Bid Day, especially if the design is large across the front! For example, a bright blue "Mamma Mia!" inspired design will really shine on this tee, and can spread out since there's not a pocket. You can also easily style this tee for any theme, making the options truly endless.
---
Bundle up with the No Pocket Long Sleeve! This style is the winter remix of the beloved short sleeve no pocket. With fitted cuffs, you can stay comfy and warm in this style. Since there's no pocket, this is another great basic for any design imaginable. A large design across the front will elevate this simple style and make in an instat fav. Same fabric, same fit, different sleeves!
For a solid Winter style, long sleeve Chambray is really your best friend. This light blue color is perfect for an icy design - we're thinking Semi or a date function? Chambray is a super light blue, making it a solid neutral with still a pop of color. Different shades of blue pop on this color, as well as white and grey. Just because it's a long sleeve doesn't mean you have to go with cold colors, though!! Throw on some bright hues for a funky early Spring PR tee! This would look great bold across the front.
---
Another classic - Ivory! Ivory is tried and true, especially when it comes to Fall and Winter designs. Since it has a light cream look to it, this color comes off more warm and natural than plain white. For Fall, deep reds, oranges, and browns will look perfect on this long sleeve. Add a distressed look and boom! you have a classic pumpkin patch sisterhood tee. Since this tee is so plain, thigh, almost any color scheme can work. Go bright for Spring PR, mixing colors and fun graphics.
We all love Comfort Colors, but it can be hard to pick which style and color is right for your design. With this easy guide, you're sure to find the perfect fit! And if you're still unsure, we got you! We will help you find shirts you love, whether it has a pocket, no pocket, long sleeve or short!
Ready to start on your next shirt design? Let's do it!