The first time you wear your favorite sorority hoodie, it's like an instant bond with the other girls in your chapter. The feeling is indescribable and provides a sense of comradery and sisterhood, even when you're back at home on vacation breaks missing your sisters. You're sold on the obsession of the hoodie, but now you need to figure out how to wear it and not look like an over-enthusiastic first-year student. Fortunately, there are many stylish ways to wear your favorite sorority hoodie that will make you feel like it's an outfit, not just another layer, and give you that extra boost of confidence to take on the semester.
1. The Classic Sorority Hoodie + Early Morning Leggings Look
One of the most iconic pairings in recent college history is the perfect hoodie and leggings look. It is very comfortable and extremely practical when you need to snooze that alarm clock until it's time to run to an early morning class. The classic sorority hoodie is something that everyone desires, and because of the simple color palette, it pairs well with almost any legging. You also can't go wrong with a stylish scarf and some cute booties in the wintertime to elevate the look.
2. Layer It Under a Blazer for Work Attire
The classic sorority hoodie is perfect to wear under a blazer for work. The formality of the blazer will help to tone down the casualness of a hoodie, but it will still look appropriate for the office. Wear a pencil skirt or fitted dress underneath to take it up an extra notch. This work attire outfit is also perfect for sorority members who are still in school but sometimes have to dress up for student events where they want to appear more professional (such as a fundraiser) while still showcasing their sorority letters. By adding a blazer, you won't have to worry about being under- or over-dressed, as this option to wear your hoodie is somewhere in the middle.
3. Pair the Hoodie With Jeans and a Scarf for a Casual Look
This casual look is perfect for attending sorority events, going to the library or coffee shop, and other places where you want to be comfortable but also look cute. A scarf is a great way to add color and pattern to your hoodie-jeans outfit to be more interesting. If you want to add a little bit of height, throw on a cute pair of boots to change the look. Sorority members often wear this look to class during the fall and winter months, as it is extremely comfortable and can keep you warm.
4. Add a Necklace to an Everyday Look

If you want to make your sorority hoodie look more stylish, but don't feel like changing out of it or adding layers, accessorizing is the way to go. A bold necklace will make your everyday look more exciting and add some flair to an otherwise simple outfit. You can also wear a statement earring or bracelet depending on the item that you want to accentuate. Adding new jewelry helps to change your look and distract everyone from the fact that you're wearing the same hoodie you wore last week.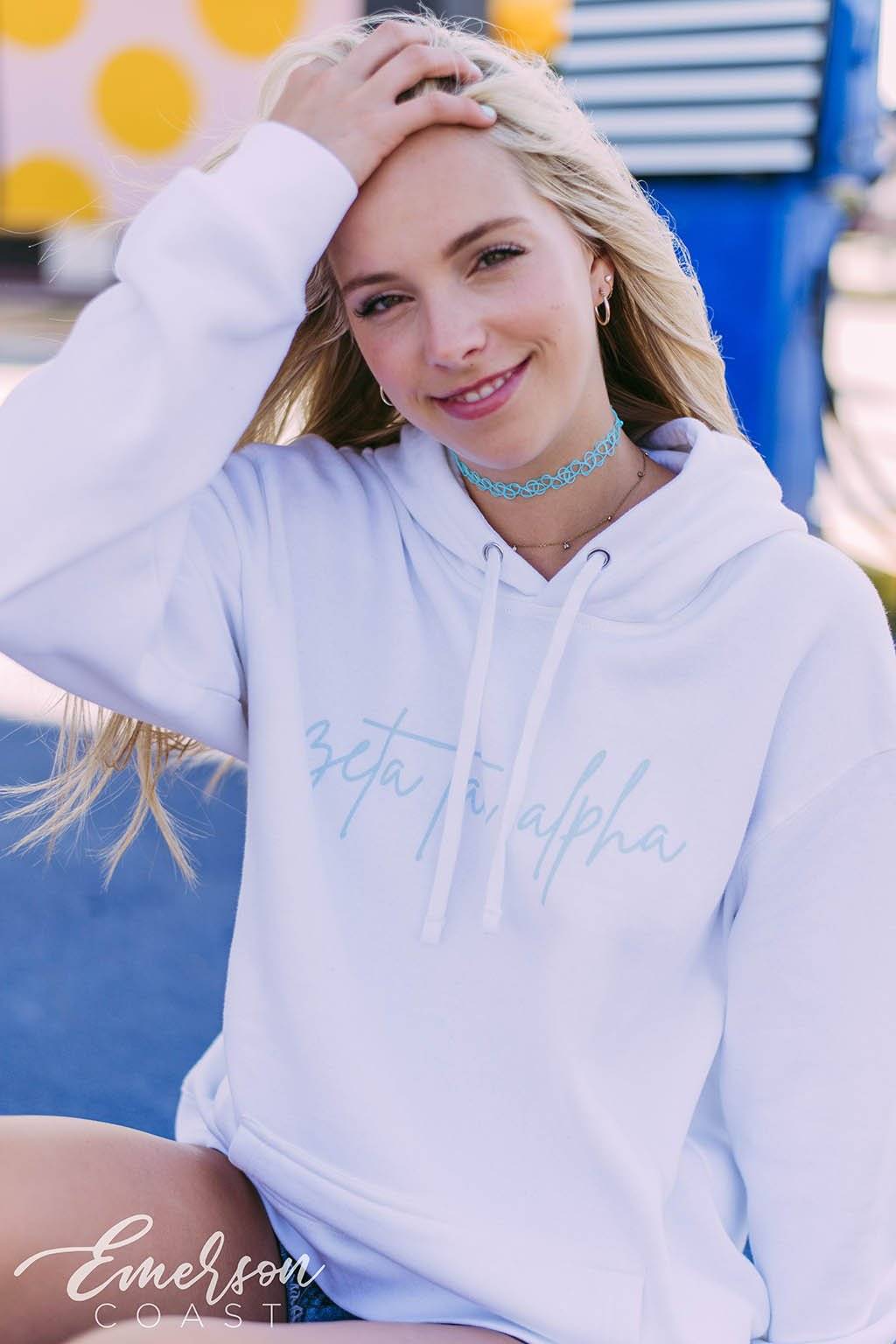 5. Get Festive During the Holidays

There is no better time to wear your favorite sorority hoodie than during the holiday season. The bright colors and festive patterns are perfect for the holiday season and make you stand out during the Christmas party. A Santa hat is also a great way to tie in your sorority spirit at a Christmas party. This look pairs well with leggings, tights, or even jeans. You also could order a custom seasonal hoodie with your sorority letters. This will ensure you are the most festive person in the room.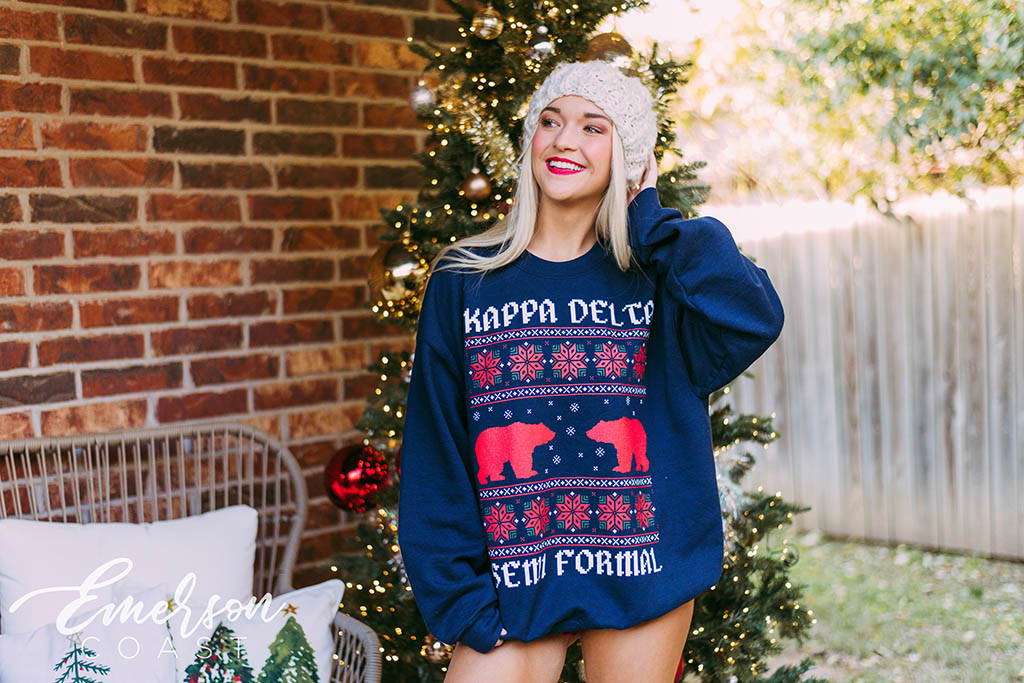 6. Winter Boss Vibes: Your Sorority Hoodie Under a Jacket

Let's be honest, winter can be a tough season for college students. With the cold weather and short days, getting yourself together in the morning can mean it's tough to dress appropriately. Fortunately, the winter months are perfect for keeping your sorority hoodie alive and you can wear it under a jacket for extra warmth. This outfit is super cute, practical, and very stylish. The warmth and comfort of the hoodie will be nice and toasty underneath your winter coat, but you can still show off some cute boots or leggings to keep things fresh. If you want to add a little more style to this winter outfit, try wearing some cute gloves or a scarf to match. Overall, this is a great way to wear your sorority hoodie during the winter months when it's just too cold for comfort.
7. Wear Your Sorority Hoodie as a Mini Dress

If you want to make your sorority hoodie look even more stylish, try wearing it as a dress. Pair your favorite hoodie with a pair of leggings or tights, and you can wear it as a mini-dress, or even a longer tunic. You can add on some cute flats, heels, boots, or even sneakers to complete the look, and it will become a casual outfit that you can wear anywhere. This look is perfect for class, attending student events on campus, or meeting up with friends. For this look to work, you need to make sure the hoodie is oversized and long enough.
8. Color Coordinate Hoodies With a Sorority Sister

If you and a sister love wearing similar outfits, why not coordinate your hoodies? This is the perfect way to show off some sorority spirit during the school year. If you're wearing the same hoodie, you can wear different leggings or tights to make it look like two outfits. If your sister has a similar hoodie in a different color, you can even coordinate with different accessories to make the two distinctly different looks meld well together. This is not only stylish and adorable, but it's a great way to bond with the other girls in your chapter.
9. Wear Your Sorority Hoodie With High-Waisted Pants for Evening Wear

Evening wear can be boring and uncomfortable, but it doesn't have to be if you're wearing your hoodie. Pair a high-waisted pair of pants with your sorority hoodie for a stylish outfit that will keep you warm and comfortable. If the shirt underneath is loose enough, it can be a cute and stylish crop top for this look. You can even add on some chunky jewelry or other accessories to make sure you're looking stylish for this event. This look is perfect for an evening out with friends, hanging out at the sorority house, or even dining in a restaurant. This is another excellent way to have fun trying out different styles with your beloved sorority hoodie.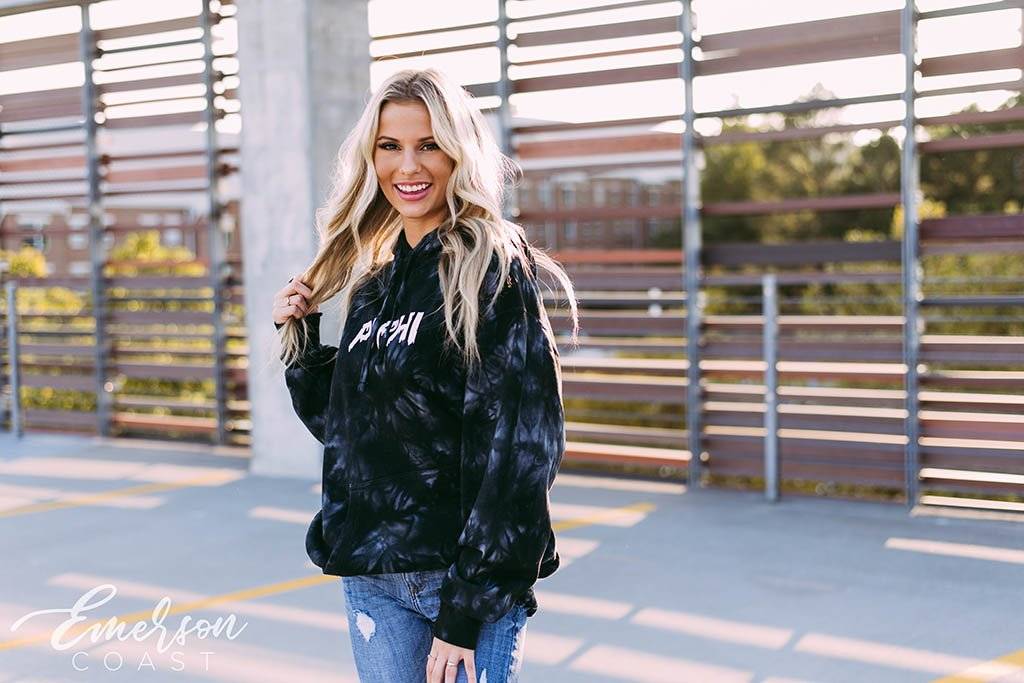 Without a doubt, the iconic classic sorority hoodie has become a staple of the college experience. By following these nine great ideas for stylish ways to wear your favorite hoodie, you are sure to have an unforgettable time while wearing your favorite college garment. If you want some great inspiration for more outfits, and the ability to order custom apparel, browse the dedicated online shop of Emerson Coast to live your total sorority hoodie fantasy.
---